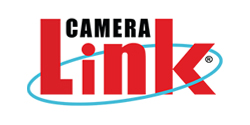 Camera Link Standard
The Only Real-Time Machine Vision Protocol
Camera Link® is a robust communications link using a dedicated cable connection and a standardized communications protocol. Camera Link is a hardware specification that standardizes the connection between cameras and frame grabbers. It defines a complete interface that includes provisions for data transfer, camera timing, serial communications, and real-time signaling to the camera.
Camera Link was built for real-time, high bandwidth (maximum 850 MB/s) parallel communication. It is a well-established and proven industry standard, there are hundreds of Camera Link products on the market today. These compliant products are interoperable, providing users with the flexibility to choose the best product for their needs without worrying about compatibility between different manufacturers. Camera Link has GenICam support for plug-and-play interoperability.
Camera Link offers many benefits, including:
Real-time, high-speed: High bandwidth assures fast transfer of large files with no latency issues.
Easy product interoperability: Camera Link products use the same cable connection. Compliant cameras and frame grabbers can easily be interchanged using the same cable.
Lower Cable Prices: Because Camera Link is a widely adopted standard, cables are readily available and competitively priced. Mini Camera Link provides a very small footprint when space is an issue.

Single Cable Power: Power over Camera Link, PoCL®, allows the camera to be powered by the frame grabber through the Camera Link cable, which saves space and money.
PoCL-Lite: Smaller connector supporting base configurations for low-cost solutions.
Camera Link was updated from version 1.2 to 2.0 in February of 2012. This version simply consolidated previous updates including Mini Camera Link connectors; Power over Camera Link (PoCL); PoCL-Lite (a smaller minimized PoCL interface); and Appendix D, the Camera Link cable specification into one specification document.
Camera Link is currently in version 2.1. This new version incorporates a number of refinements that help clarify some requirements in more detail. These enhancements include:
Jackscrew dimensions have been specified in more detail
Bit positions for all tap formats documented (chapter formatting improved for ease of use)
Support has been added for products that emulate the Channel Link chip in their FPGA
New function added to serial port API which resolves long-standing weakness in the original function
Product testing at PlugFest now a requirement for all 2.1 products
Taking Camera Link into the future is Camera Link HS®. Camera Link HS builds on the strengths that separate Camera Link from other digital standards. Learn more about Camera Link HS.