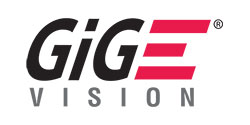 GigE Vision Standard
True Plug and Play Connectivity
GigE Vision® is a global camera interface standard developed using the Gigabit Ethernet communication protocol. GigE Vision allows for fast image transfer using low-cost standard cables over very long lengths. With GigE Vision, hardware and software from different vendors can interoperate seamlessly over GigE connections.
GigE Vision is a widely adopted interface around the world, with dozens of leading companies currently offering hundreds of GigE Vision compliant products. GigE Vision offers many benefits including:
FAST: High bandwidth (125 MB/s) transfers large images quickly in real time
ABUNDANT: Uncompromised data transfer up to 100 meters in length
STANDARD: Low cost CAT5e or CAT6 cables and standard connectors
SCALABLE: Highly scalable to the fast growth of Ethernet
LOW COST: Standard hardware and cables allow easy, low cost integration
GigE Vision Currently in version 2.2
GigE Vision was updated from version 2.1 to 2.2 in June of 2022. Primary enhancements include GenDC streaming and multi event data.
GigE Vision was updated from version 2.0 to 2.1 in August of 2018. Version 2.1 now features multi-part transmission. This allows the sending of more complex data structures used in 3D imaging or any application which would benefit from a 3 coordinate data structure. Version 2.1 also includes an updated profile for IEEE1588. Along with version 2.1, the Technical Committee (TC) is releasing a Mechanical Supplement which will allow branded GigE Vision cables that are certified to meet GigE Vision requirements.
GigE Vision was updated from version 1.2 to version 2.0 in November 2011. Version 2.0 included non-streaming device control. It accommodates networked video distribution applications that leverage switched Ethernet client/server video networks. Devices such as GigE Vision-enabled lights are automatically recognized by the computers on the network. Version 2.0 introduces support for faster data transfer through 10 gigabit Ethernet and link aggregation. It also enables transmission of compressed images (JPEG, JPEG 2000 and H.264), accurate synchronization of multi-camera systems and enhanced support for multi-tap sensors.
The GigE Vision specification relies on GenICam™ to describe the features supported by the camera. This description takes the form of an XML device description file respecting the syntax defined by the GenApi module of the GenICam specification. GenICam is a generic programming interface for all kinds of cameras. For more information visit www.genicam.org.
To help achieve the goal of coherency between various vision standards, the GigE Vision committee generalized the definition of its pixel formats and created the Pixel Format Naming Convention (PFNC). Subsequently, this content has been moved into the GenICam Standard Feature Naming Convention (SFNC). Download the SFNC and PFNC.
The GigE Vision standard was developed and is maintained by a dedicated group of companies representing every sector of the vision industry. The AIA oversees the ongoing development and administration of the standard.
To ensure true plug and play compatibility, look for the GigE Vision Logo- only registered compliant products can carry the logo!
Certified for use with GigE Vision Systems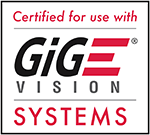 GigE Vision now offers a special licensing program for ethernet products that don't implement the full standard but are configured to easily integrate vision system components and could benefit from GigE Vision branding. Click here to review the details on the license form.