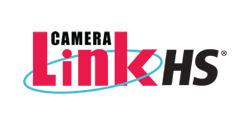 Camera Link HS Standard
The Machine Vision Protocol Moving Forward
Camera Link HS® (CLHS) is designed to specifically meet the needs of vision and imaging applications. Its low latency, low jitter, real-time signals between a camera and a frame grabber carry image data and configuration data. The interface takes the key strengths of Camera Link and adds new features and functions to meet customer's demands today and tomorrow. The CLHS standard is currently at version 1.1 which adds increased bandwidth connectors. The standard provides:
Scalable Bandwidths from 1,200 to 80,000 MB/s
Extremely Reliable Data Delivery
Copper or Fiber Optic Cables from 15 to 300+ meters in length
Multi-Vendor Compliant Components Available
IP Cores Available for Quick, Low-Cost Development
Camera Link HS is designed from a system point of view, ensuring that CMOS sensor technology can be fully exploited while providing low-cost cameras and frame grabbers that meet the ease of use, flexibility, and data reliability demanded by customers.
Camera Link HS was initially released in 2012 and currently is in version 1.1.
More Features and Benefits of Camera Link HS:
Shared IP core for quick, low-risk developments.
Physical layer can be implemented inside FPGA.
Multi-sourced components adopted from high-volume industries ensure low-cost and long service life.
Immune to single-bit transmission errors.
Bidirectional triggering - low jitter of 6.4ns pk-pk possible with IP core - makes Camera Link HS viable for linescan and short exposure area scan applications.
X Protocol is implemented with 64B/66B and Forward error correction (FEC) for 25% bandwidth improvement over 8B/10B.
M Protocol video is protected by CRC and low latency resend enabling the resend buffer to be implemented in the camera FPGA for low cost, small size and reduced power.
The protocol features enable parallel image processing.
Video packetization enables regions of interest to be transferred easily and precisely.
300 MB/s / 1200 MB/s uplink allows quick camera reconfiguration such as updated coefficient sets.
16 bidirectional GPIO with latencies of 100 to 300ns (16 more reserved).
Frame by frame control of camera supported by the trigger message and acquisition byte returned in video header forming a closed-loop system.
Cameras use GenICam™ application programming interface for ease-of-use.
Frame grabber to camera communications are GenCP for easy software integration.
Standardized LED for quick system troubleshooting.
Cable Options with Camera Link HS:
Eight (8) cables maximum
1200 to 1850 MB/s (X Protocol) F2 fiber optic with 300+ meter distance (SFP+ connector)
2100 to 3300 MB/s (M Protocol) C2 copper cable with 15 meter distance (CX4 connector)
8400 to 10,000 MB/s C3 copper cable/active optical cable with 100 meter distance (CX4 connector, X Protocol)
Fiber optic cabling is low cost, light weight and small in size and long distance capable. It is high bandwidth, extreme flex-life rated and immune to electrical noise.
ALL Standards Forms
(LICENSE APPLICATIONS AND COMPLIANCY DOCUMENTS)