Motion Index Drives, Inc. Product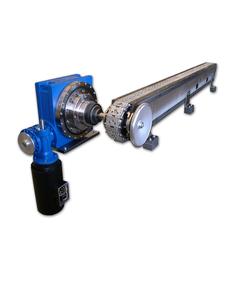 Motion Index Drives' Precision Link Conveyors combine excellent accuracy and high index speed capability with versatility to meet any automation challenge. Precision-machined aluminum links are driven by a high-performance Motion Index Drive unit consisting of an index drive, worm or hardened bevel gear reducer and brake motor. Hardened dual drive sprockets guarantee a backlash-free motion transmission between the drive unit and conveyor chain links. Fixed, hardened chordal compensation cams on both ends of the Precision Link Conveyor maintain a precise tension level in the chain link assembly at all times.
The design of the Precision Link Conveyor is based on a modular assembly chassis concept. The conveyor length between the dual drive sprockets and the fixed chordal compensation cams can be customized according to the required number of work stations.
The Motion Index Drives LFA Precision Link Indexing Conveyors are offered in many different fixed strokes and completely programmable servo driven options. Motion Index Drives also specializes in highly complex configuration precision link indexing applications.
Please contact our engineering sales department for further information on our Precision Link Indexing Conveyor Systems.
Key Benefits
Very high quality machined aluminum links for chain which allows for less internal inertia and results in higher loading capabilities, faster index times, and smaller indexer required to drive conveyor
Hardened and ground steel track for higher rigidity
Four cam followers engaged on each and every link to steel track, which are sealed requiring no maintenance
Aluminum extrusion framework to allow for extremely long and very straight lengths, and gives flexibility to mount conveyor and any stationary items to conveyor with virtually no effort versus drilling and tapping
Center frame can be manufactured to allow for holes, cutouts, or pass throughs
Extremely high accuracy through the use of either a precision fixed rotary index drive, or the use of a very low backlash gear reducer for servo applications
Can be manufactured to virtually any length
Advantages for design engineers and special machine builders
Oscillating index operation capabilities
Easy synchronization of other mechanical devices
Can be mounted in a vertical or horizontal configuration
Length can be changed easily for design or project change
Technical benefits for users
Proven reliability through many years of service
Easy synchronization of other mechanical devices
Lightweight aluminum links
Maintenance-free indexing mechanism (RT Series rotary table)
Fast and easy to mount other external stations
Low maintenance (adjustment of preloading on links done only once a year)
Guide rails are hardened and fine milled
Options available
Explosion-proof motors, servo drives and motors for flexibility
Custom index and dwell angles
Overload protection devices
Custom link sizes and linear strokes
Custom hole patterns on links
Stainless steel, nickel plating or other special surfaces on select areas
Other Products from Motion Index Drives, Inc.