Motion Index Drives, Inc. Product
Right Angle Index Drive
Model: TX/TG Series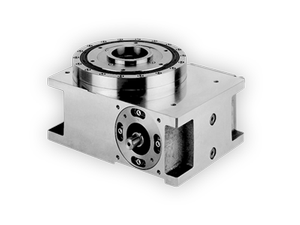 Right Angle Index Drives convert a uniform input motion into an intermittent output motion. The intermittent output motion is transmitted through our induction-hardened, precision-machined globoidal cam.
Right Angle Indexers are ideal for high speed, high accuracy applications. These indexers convert a uniform input motion into an intermittent right angle output motion. Both the TG and TX Series are driven by flame hardened cams and have a robust design for high-stress environments. TG and TX Series indexers are offered in a fixed station configuration or as a 100% flexible turntable with a servo motor or standard AC brake motor with encoder.
Key Features and Benefits
Great for high speed applications
Clockwise, counter clockwise or oscillating movement
Cam profiles allow for smooth acceleration and deceleration
Advantages for design engineers and special machine builders
Accuracies of up to +/- 0.023mm (0.0009")
Housing machined on all sides. Suitable for use in any mounting position required
Mounting holes identical on top and bottom
Smooth index angles and extended dwell enable continuous use
Right Angle design enables up to 1000 cycles per minute
Simultaneously rotating input shaft extension.
Optional synchronization of other mechanical modules
Technical Benefits for Users
High speeds possible
Can have dwell angle larger then index angle
Extremely reliable with long service lives
High efficiency mechanical components require less input power
Flame-hardened cams and cam followers
Internal components immersed in oil bath
Low profile housing for seamless integration
Options
Choice of drive
Reinforced output flange bearing for higher tilting moment
Optional friction clutch on drive
Dwell and index angle can be tailored to requirements
All sizes also available as programmable flex indexers
Custom specified color at no extra charge
Other Products from Motion Index Drives, Inc.