Motion Index Drives, Inc. Product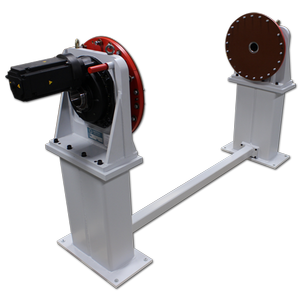 WELD POSITIONING SYSTEM
Motion Index Drives can provide a complete weld positioning system. The complete robotic positioning system solutions we provide utilize our standard, high-reliability and precise indexing equipment with custom weldments that exceed our customers' expectations. Our complete system can be custom manufactured or standard to be incorporated into a arc, tig, mig or laser welding application.
FEATURES
Can accommodate all servo motor and robotic motor brands
Can operate from standard AC motor single or three phase
Extremely robust construction to handle heavy loads
Headstock ( flexible or fixed index drive, with or without drive motor, servo or AC)
Indexing headstock available with thru-hole
Tailstock (bearing assembly or thru-hole bearing housing)
Risers (custom height and weldment design)
Center frame (custom length and weldment design)
Optional controls drive for motor
Micarta isolation kits for specific welding applications
Grounding components available for mig and tig welding applications
Customer specified paint finish on all stationary components
Rotary union and slip rings options are available
Black oxide head and tailstock mounting flanges
BENEFITS
Purchase multiple components from one source reducing purchasing management time
Reduce project management time by utilizing Motion Index Drives to order necessary components
Minimize your design time by utilizing our standard designs that are readily available
Minimize assembly time while decreasing your required man hours on projects
We will mount customer supplied motors and other components to ensure proper functionality and fit
Minimize shipping and handling costs by purchasing from the source
Other Products from Motion Index Drives, Inc.