Cone Drive Product
Harmonic Solutions (Strain-Wave Gearing) for Precision Motion Control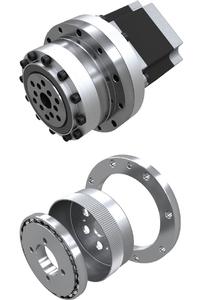 Harmonic Solutions are expertly engineered to provide the ultimate precision motion control in a small amount of space. Harmonic Solutions, or strain-wave gearing, consists of three main components; a wave generator, flexspline, and a circular spline. Offering ratios ranging from 50:1 to 160:1 in a single reduction, efficiencies up to 90% and extremely low backlash, harmonic gearing also has a smaller overall length than in-line planetary arrangements with similar ratios.
Product Features
Motor adaptation
Ultra-low to zero backlash
Standard and custom ratios
Cone Drive® Optimized Tooth Profiles
High efficiency
High ratio
Back-drivable Direct dimensional replacement against industry standards
Made in the U.S.A.
Product Specifications
Sizes: 11-45, custom
Output Torque: Up to 1,500 Nm (13,275 lb.in.)
Input Adapters Servo, Stepper, AC, Air, Hydraulic, Manual
Output Options Solid, Hollow, Custom
Other Products from Cone Drive