Cone Drive Product
ACCUDRIVE™ RG Right Angle Precision Servo Drive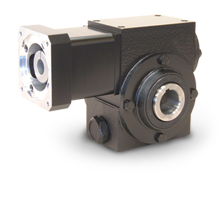 The ACCUDRIVE™ RG Right Angle Precision Servo Drive is the rugged economical solution for automation applications. Featuring Cone Drive?s true double-enveloping worm gear technology, the ACCUDRIVE™ RG offers a cast iron universal housing that enables mounting in any position and withstands the most dynamic servo applications. The RG is factory-filled with synthetic lubricant and quality-built in standard and low backlash options with hollow shaft to provide complete flexibility.
Product Specifications
Case Sizes: 15, 20, 25, 30 and 35
Output Torque: Up to 7,800 lb.in. (880Nm)
Gear Ratios: 5, 6, 7, 8, 9, 10, 15, 20, 25, 30, 40, 50 and 60 (all ratios are exact)
Input Options: Any servo or stepper motor
Output Options: Solid shaft, keyed hollow shaft, shrink disc hollow shafts
Warranty: 5-years from date of shipment
Made in the U.S.A.
Other Products from Cone Drive