Cone Drive Product
ACCUDRIVE™ Series LE In-Line Planetary Servo Gearhead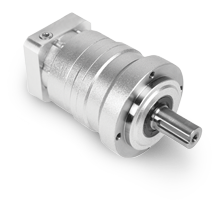 The ACCUDRIVE™ Series LE in-line planetary servo drive delivers the same superior performance and precision offered by our ACCUDRIVE™ Series P products but has the added benefit of a dimensionally interchangeable output design making it compatible with the most economical planetary gearheads. Additionally, the Series LE In-Line Planetary Servo Gearhead offers improvements in motor mount connection and noise reduction.
Product Features
Helical gearing
High torque capacity and torsional rigidity
200% shockload capacity
Quiet and smooth
Exact ratios
Backlash as low as 6 arc-minutes
Universal housing: Mounts in any position; Compact – space savings; Rugged construction
Factory filled with grease: No vents or breathers; Maintenance free; no lubricant service required
Fast and error-free motor assembly: Motor adapter plate provided to mate to your servo motor; Integrated, zero-backlash clamping coupling
Made in the U.S.A.
Product Specifications
Case Sizes: 50, 70, 90, 120, 155, 205 and 235
Output Torque: Up to 1,500 Nm (13,275 lb.in.)
Gear Ratios: From 3:1 in single stage to 100:1 in two stages
Input Options: Fits servo or stepper motors
Output Options: Solid keyed shaft dimensionally interchangeable against most manufacturers
Warranty: 2 years from ship date
Other Products from Cone Drive