Cone Drive Product
ACCUDRIVE® High Performance (HP) Right-Angle Servo Reducer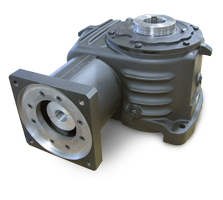 The ACCUDRIVE™ HP Servo Reducer was designed to satisfy increasing servo motor capacity. Expertly engineered with Cone Drive's true double-enveloping worm gear technology, the ACCUDRIVE™ HP provides a superior level of precision and accuracy, low to absolute zero backlash and the industry's highest torque and shock load capacity, all in a small amount of space.
Product Features
Accepts all servo manufacturers, eliminating the need for adapter plates
Low or absolute zero backlash options for extremely accurate positioning and repeatability
Double-enveloping worm gear technology provides high torque capacity, high efficiency, quiet and smooth runniing and high torsional rigidity
Product Specifications
Center Distances: 3.0, 3.5, 4.0, 5.0, 6.0, 7.0 and 8.0 (Inches)
Output Torque: Up to 120,500 LB. IN. (Single Reduction)
Gear Ratios: From 5:1 to 70:1 in Single Reduction. Custom ratios are available
Input Options: First up to 315mm Motor Flange Square
Output Options: Solid, Hollow, Shrink Disc
Warranty 5-years from date of shipment
Made in the U.S.A.
Other Products from Cone Drive