Cone Drive Product
ACCUDRIVE™ Series S Right-Angle Precision Servo Drive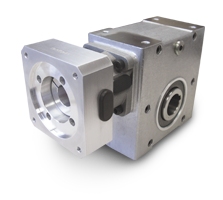 The ACCUDRIVE™ S Right-Angle Precision Servo Drive is a general purpose servo-rated gearhead designed for flexibility and value without sacrificing the quality, consistency, performance and durability that Cone Drive is known for. Featuring worm gear technology, the Series S also offers the ultimate in output shaft flexibility, a light-weight aluminum housing, zero backlash clamp-style coupling, is vent-free and factory-filled with a lifetime of synthetic oil.
Product Specifications
Sizes: S02, S03, S05, S06, S09 and S11
Center Distances: 1.33, 1.54, 1.97, 2.38, 3.00 and 3.54 (inches)
Output Torque: 7,500 LB. IN (850 NM)
Servo Motor Capacity: Up to 7.5 kW
Gear Ratios: 5, 7.5, 10, 15, 20, 25, 30, 40, 50 and 60
Output Options: Hollow/Solid (single or double)
Mounting Components: Output Feet
Warranty: 2-years from date of shipment
Made in the U.S.A.
Other Products from Cone Drive