Researching Our Robotic Future
POSTED 12/15/2021
 | By: Emmett Cole
In research institutes and engineering labs around the world, A3 members are busy bringing the next generation of automation tools to life.
The futuristic systems developed by these researchers, teams and public-private consortiums typically take the form of new hardware and/or software systems designed to meet the needs of specific industrial sectors and applications. Eventually, these tools find their way to factories and warehouse floors.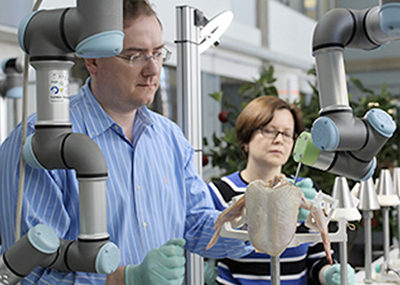 Researchers oversee a robot performing a butterfly cut on fresh poultry. Credit: Georgia Tech
A current collaboration between the University of Southern California, Lockheed Martin, and the Southwest Research Institute (SwRI), for example, conducted through the Advanced Robotics for Manufacturing (ARM) Institute, is working on the development of a new automated composite layup cell. The project is expected to deliver advances in perception, planning, and control to improve robot performance in composite layup applications.
Meanwhile, with the aim of overcoming some of the technical challenges associated with automated poultry processing, the Georgia Tech Research Institute is working on a series of automated systems with intelligent, automated cutting, deboning, and cone loading capabilities. The systems combine advanced robotics, image processing, and statistical modeling.
Less visible perhaps, but by no means less important, is the research that is being conducted into the development of foundational tools such as industry guidelines, standards, and open-source software. These tools enhance robot interoperability and reduce the need to reinvent the wheel during the robot design phase. Additionally, by providing a common foundation for robot development, these tools make robots easier to deploy, reduce the limiting effect of siloed, proprietary systems on multi-brand automation deployments, and drive overall automation adoption.
In the summer of 2021, independent, non-profit MassRobotics announced the release of the AMR Interoperability Standard. Developed by a working group that includes some of the world's leading AMR brands, including Waypoint Robotics, MiR, and Seegrid, the new standard is designed to enable Autonomous Mobile Robots (AMRs) from multiple vendors to integrate and work together through seamless sharing of operation and location data.
Development of the standard was inspired by customer needs, says Thomas Ryden, Executive Director at MassRobotics.
"Large corporate users of AMRs recognized that they didn't want to be tied to one particular vendor when their automation requirements called for the use of different types of AMRs and other mobile automation such as robot forklifts. These users wanted a way to understand where their robots were located and how they coexist on the factory floor," explains Ryden.
A demonstration of a use case for the new AMR Interoperability Standard developed at MassRobotics. Credit: Mobile Robot Guide/YouTube
FedEx has plans to incorporate and test the standard in one of its facilities where AMRs from Waypoint Robotics, Vecna Robotics and others operate in the same area.
In other cases, researchers develop tools that end up being widely deployed, yet practically unknown to those outside of robotics circles. A case in point is ROS-Industrial, an open-source project designed to extend the capabilities of the open-source Robot Operating System (ROS) software to industrial hardware and relevant applications. ROS is maintained by the not-for-profit Open Robotics.
Led by SwRI since its 2012 launch, ROS-Industrial is designed to bridge the gap between robotics researchers, the robotics industry, and the needs of industrial robot end-users. Today, ROS-Industrial based software elements are found tucked away inside a huge number of commercial industrial robot systems, from industrial robot arms to AMRs.
Xyrec, one the world's largest industrial mobile robot arms (shown here displaying its aviation paint stripping capabilities at a San, Antonio Texas event held in November 2021) incorporates elements of ROS-Industrial in its software design. Credit: Nick Wagner / San Antonio Report
ROS-Industrial's open-source model has proven to be an effective tool for disseminating foundational, pre-competitive IP building blocks that enable quick pathways to robotics development and innovation, says Matt Robinson, Program Manager at ROS-Industrial Consortium Americas.
"ROS-Industrial is great for getting to that first solution and prototype and, from there, there is nothing prohibiting you from taking that all the way to production and on to the floor, says Robinson, emphasizing the important role played by ROS-Industrial Consortium in terms of providing input and direction on the type of functionality that needs to be included in the ROS-Industrial ecosystem.
The ROS-Industrial Consortium reads like a Who's Who of robotics and industry with well-known robotics brands such as Yaskawa (an early collaborator on ROS-Industrial), Omron, ABB, and Universal Robots appearing alongside global brands like Amazon Web Services, BMW, Siemens, and Johnson & Johnson.
"Members of the consortium have the opportunity to influence the roadmap of ROS-Industrial. They also have access to training resources, member events, and a chance to work with others that are interested in collaborating on mutually beneficial open-source initiatives," Robinson explains.
One of SwRI's current projects is a collaboration with The National Institute of Standards and Technology (NIST) to develop an open-source framework for compliant assembly tasks. Dubbed 'ConnTact,' the framework is a set of tools designed to enable any robot with force sensing and compliance control features to be used with any algorithm.
"We're excited here at SwRI to solve challenges that haven't been solved in the industrial robotics space and we hope our consortium members and others with an interest in furthering the advancement of robotics in the industrial sector are equally excited to join us for the ride," says Robinson, noting that cybersecurity, enhancements to human-robot collaboration, and managing the ongoing transition from ROS 1 to ROS 2 are high on the non-profit's agenda.
Next up on the AMR Interoperability Working Group's to-do list is to develop standards around battery charging and usage.
"Currently, with every AMR requiring its own proprietary battery charging system, companies that deploy 2 or 3 different brands of AMR can quickly find themselves running out of valuable real estate. We're at a really early data gathering stage, but our ultimate objective is to come up with a common standard charger that all AMRs can use, reducing complexity and saving end-users space in their warehouses and factories," says Ryden.