Benefits of Line Scan Imaging
POSTED 01/17/2022
 | By: John Lewis, Tech B2B, A3 Contributing Editor
Line scan cameras are popular because one 2k line scan camera cost-effectively provides the same resolution as two megapixel area scan cameras, without image smear or the redundant processing of frame overlaps. To work, line scan cameras generally use a single line of sensor pixels (effectively one dimensional) to build up a two-dimensional image. The second dimension results from the motion of the object being imaged. Two-dimensional images are acquired line by line by successive single-line scans while the object moves (perpendicularly) past the line of pixels in the image sensor.
Line scan imaging is also well known for the following common benefits:
Dynamic range that can be much higher than alternative image capture methods
High pixel fill factor (typically 100%) to maximize sensitivity
Smear-free images of fast-moving objects without expensive strobing or cumbersome shuttering
According to Mike Grodzki, product manager, Line Scan, at Teledyne DALSA, processing efficiency is one of the lesser-known benefits of line scan imaging.
"Line scanning eliminates the frame overlaps required to build a seamless image," explains Grodzki. "Frame overlaps represent redundant data that uses up precious processing bandwidth, particularly in high-speed, high-resolution applications."
Detecting several kinds of defects often requires a variety of light geometries and light types such as dark field, bright field, and backlight, something only a line scan camera can do well for objects moving at high speed, explains is Dr. Klaus Riemer, product manager, Chromasens GmbH.
"With the multi-image flash feature provided with Chromasens line scan cameras, up to four different lights are triggered by the camera resulting in up to four different images, all of which are captured in one pass, improving throughput and productivity," says Riemer.
Because all four images are taken with one camera, the images are perfectly aligned with one another. With this feature, more information can be acquired for use in situations where high-dynamic-range (HDR) imaging is an advantage. Riemer notes that this, in combination with the appropriate image analysis, results in more reliable detection of defects.
Such vision systems can detect various types of defects, including cracks, scratches, stains, chipping, and foreign particles. The setup is suitable for inspection applications such as wafer, AOI/PCB, LCD panel, glass, security print, BGA, semiconductor, and various similar applications.
"While any flash controller that's compatible with the electrical and timing specifications of the camera output interface can be synchronized with Chromasens cameras featuring multi-image flash capability, for the highest quality and reliability it is recommended to use the Chromasens Corona II illumination system and the Chromasens XLC4 controller," Riemer explains.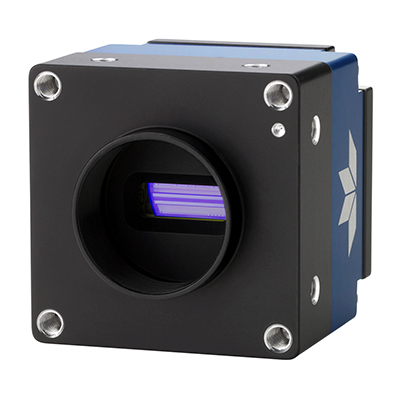 Featuring a cutting-edge InGaAs sensor in a compact package, the Linea SWIR GigE line scan camera enables more efficient detection by seeing beyond the visible in a variety of applications including food and packaged goods inspection, recycling, mineral sorting, and solar and silicon wafer inspection.
Recent Line Scan Imaging Advancements
Innovations in line scan technology include the ability of line scan cameras to capture and merge multiple images to achieve high resolution in low light. Recent advancements also enable incorporating multiple visible and nonvisible spectral bands to enhance vision capabilities. In addition, software enhancements and other changes have made line scan cameras easier to use.
One of Teledyne's latest GigE line scan cameras — the Linea SWIR —allows users to detect light in the shortwave infrared (SWIR) spectrum, running from just above the visible wavelengths and near IR (1000–1700 nm) and in some implementations out to 2500 nm.
"We're seeing newfound interest in SWIR because it can identify details below the surface during inspection of fruit and other foods. It can also be also used to determine water content, an important factor for gauging food quality," says Grodzki.
Riemer notes two significant line scan imaging advancements. First, several use cases can be fulfilled by new multiline line scan cameras equipped with versatile operation modes. For demanding grayscale image-based inspection tasks, for instance, multiline cameras can operate in time, delay, and integration (TDI) mode, for example with four mono lines averaged, enhancing the signal-to-noise ratio by a factor of two.
Alternatively, such cameras can provide four-channel output like RGB+mono, whereas the mono channel can be used to enhance the overall dynamic range of the imaged surface. The major advantage is that a 16-line camera such as the allPIXA evo 8k can be operated in different modes so that a single device can address many applications.
The second significant advancement, according to Riemer, involves InGaAs sensors with higher speed capability for SWIR inspection of moving objects, such as the detection of foreign bodies in the near-infrared range.
High-speed interface developments will also continue to push the capabilities of line scan imaging and perhaps open the door to new applications. Emergent Vision Technologies, for example, offers 10GigE and 25GigE line scan cameras — the latter of which offer image resolutions of 8192 effective pixels and line rates of 200 KHz. In addition to plans to introduce new 10GigE and 25GigE models, the company will also launch a series of 100GigE line scan cameras in 2022.
"Our GigE Vision line scan cameras deliver high-speed, low-noise image capture at 8k, making them suitable for challenging applications including print, label, and film inspection," said John Ilett, president and CTO of Emergent Vision Technologies. He continued, "Because of chip shortages and labor issues, its more critical than ever before that companies find the right solution to automate processes and keep products moving out the door."
To that end, Emergent Vision Technologies has several high-speed line scan cameras in stock and available today.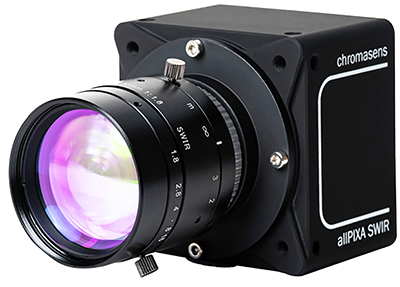 Capable of picking out defects not visible to the human eye in the 950– 1700 nm spectral range, the allPIXA SWIR addresses quality control concerns in high-volume solar panel manufacturing, semiconductor fabrication, and packaging inspection. It also meets the growing need for accurate sorting of raw minerals, foods, and recycling products on fast moving conveyor belts with its 1024 x 1 resolution and 12.5 μm x 12.5 μm square pixels.
Advancements Lead to New Machine Vision Applications
In addition to fruit and food inspection, which have been a staple for line scan inspection, Grodzki is seeing more lithium battery electrode inspection. Electrodes must be examined in extreme detail to spot contaminants and defects. This can be accomplished with a line scan camera that stands off some distance from the object being inspected. When implementing such a remote approach, precise alignment between light sources, optics, and the camera is required, along with tweaking camera and illumination parameters.
Another newer application of line scan technology is to speed up DNA analysis. In this situation, TDI line scan technology is useful because the fragile DNA samples cannot tolerate added illumination and the resulting heat. With this approach, synchronized sequential, short exposures from multiple rows of a TDI sensor are merged into a single image.
Because TDI basically increases the effective exposure time, the light intensity can be reduced, but TDI technology does require careful synchronization between imaging and object speed. The gene sequencing industry is moving to TDI technology because it increases throughput while offering the required resolution and sensitivity.
SWIR has proven useful in a growing number of applications that are problematic to conduct using traditional visible light, such as solar panels, food, and silicon wafers. SWIR can see through silicon, for example, to see defects.
"The goal is always 100% quality inspections, and SWIR makes that more possible," explains Riemer. "SWIR technology in line scan applications is used for detecting moisture levels, finding impurities in seeds, or monitoring for impurities in pharmaceuticals. Materials that look identical to the human eye can be made visible in the SWIR spectrum in different ways, since all materials absorb light in different ways. Within this broad wavelength range, many substances can be identified and easily differentiated based on their typical absorption properties."
Lights, Camera, Action
Illumination choice directly affects the quality of images acquired by any machine vision system. But it can be even more critical in line scan imaging applications. Over the past decade, line scan illumination technology has evolved from traditional sources such as halogen or fluorescent bulb lamps to LED.
While traditional light sources change spectrally, have limited life, and take a long time to reach a stable state, the spectral behavior of LEDs is stable when the temperature and current are held constant, and the LED light sources are ready for operation almost immediately. By projecting a thin strip of concentrated LED light in uniformed high brightness, these systems reduce shadows and unwanted reflections.
Also, when the system maintains optimum light levels, line scan cameras can operate within their full dynamic range. As a result, the need for costly, time-consuming image preprocessing can be eliminated, while the system delivers far superior, more stable, and repeatable results.
Recent improvements in the stability of LEDs now enable longer life and constant quality of spectral behavior. There are different options to increase the life, including adequate thermal management and controlling the operation mode.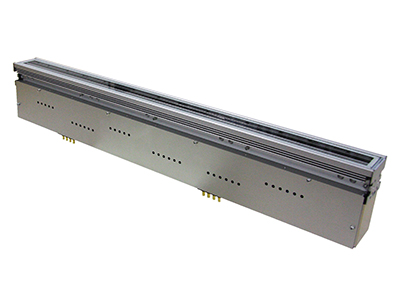 The KD6R587CXS CIS Line Scan Bar features a 587 mm scan width with 600 px per inch for a total of 13,824 px and a CoaXPress interface.
Future Line Scan Developments
Most line scan applications, including the inspection of web and print, packaging, electronics, and flat panels, require high-intensity illumination. Chromasens Corona II dark-field illumination delivers up to 3,500,000 lux, more than most line scans available on the market, so that even the smallest surface defect is visible, according to Riemer. To create such high intensity, Chromasens developed a technology that uses elliptical reflectors instead of lenses to focus LEDs and overcome the limitation of chromatic aberration in color line scan cameras.
"Due to the different diffraction, the color composition changes at the scanning position," Riemer says. "By incorporating a patented elliptical reflector, instead of lenses, the Corona II avoids these color errors. Another advantage of an elliptical reflector is the significantly higher efficiency compared to the use of rod lenses. Four different types of focus will cover the whole range of working distances needed for machine vision applications."
Contact image sensor (CIS) technology has been around for a while, but developments in this area may advance line scan technology even further, according to Grodzki. CISs are highly integrated, very compact, and useful when space is at a premium. The working distance of a CIS may be as little as 10 or 12 mm, and in some cases as much as 27 mm. Some CIS constraints include that the surface must be flat and the magnification at a one-to-one ratio, which means that any feature smaller than a pixel may not be resolved.
"CIS or common line scan cameras cannot replace all area-scan applications," explains Lou Fetch, business development manager of CIS and MICMO Products, Mitsubishi Electric US. "But in applications with wide fields of view or moving webs, line scan is well suited."
Some advantages of CIS line scan include:
Compact design requires less space and machine real estate
1:1 image eliminates distortion at the ends of the field of view
Overall better Modulation Transfer Functon (MTF): sharper transition and image edge strength allows the machine vision tools to achieve better results (OCR, edge detection, pattern match, and so forth)
Trilinear sensors ensure minimum loss of signal strength compared to the Bayer pattern used by area scan cameras
Fetch notes that the compact design and image quality improvements of CIS line scan technology have opened the door to new inspection system application in digital printing and lithium-ion battery production. In addition to some significant recent advancements in CIS line scan technology — including increased depth of field, working distance, and scan width options — Fetch expects further improvements to depth of field, resolution, and interface options.