Food Delivery Robots Take to the Streets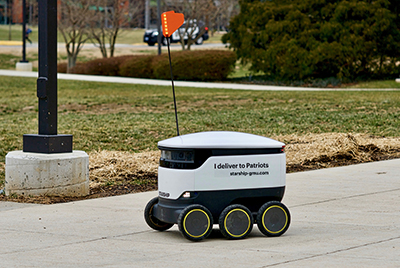 Food delivery robots have already started to deliver customer food orders in Northern California. Small service robots now show up to restaurants, get loaded with food, and then travel to hungry patrons.
DoorDash Adds a Fleet of Starship Robots
DoorDash has begun using food delivery robots to drop off food orders. DoorDash's robot can carry 22 lbs. of food. While it makes a delivery, the robot's compartment is locked so that no one can steal the food or tamper with it. When the service robot arrives at the destination, DoorDash sends a text message with a link. The recipient clicks the link to unlock the food delivery robot.
The small service robot has cameras embedded all around it, offering the robot a 360-degree view. The robot can even overcome a variety of obstacles to make its deliveries. It can climb curbs by lifting its wheels one by one until it makes its way up onto the sidewalk. It can also avoid collisions with people and navigate around obstacles. The robot is designed to make short-distance deliveries of small orders, the kinds of jobs that human delivery personnel don't want.
DoorDash says that in 20,000 miles of testing and after coming in contact with 4 million people, there hasn't been one instance of theft. DoorDash plans to add sirens that will go off if the robot is picked up, drawing attention to the robot thief. Even if someone could make off with the robot, its precise location can be tracked. Starship Technologies, its creator, knows exactly where the robot is at all times.
What Food Delivery Robots Can (and Can't) Do
Many people wonder what rules robots have when delivering food. After all, there are so many food safety regulations in place. But guidelines for automated food delivery have yet to be developed. The Starship robot moves slowly, at a max speed of 4 mph. So, humans don't have to worry about being run over by a Starship robot. There's no other way to get your food out if you don't have a phone.
The small food delivery robots can only hold 22 lbs. of food, so don't expect to cater an event with automated delivery. The service robots scan both ways before crossing a street and should be able to avoid collisions with vehicles and people.
Companies are investing in delivery bots because those living in cities expect immediate or scheduled delivery for almost everything. Companies also see the bottleneck caused as vehicles fight for space on busy urban streets. Delivery vehicles pose a safety hazard as they often block bike lanes, fire hydrants, and crosswalks. Robots could also save companies a lot of money in last-mile delivery costs.
Service Robots
This content is part of the Service Robots curated collection. To learn more about Service Robots,
click here
.