Robot Safety Standard Documents
This is you'll all of the current American National Standards industrial robots. These standards provide robotic definitions, engineering guidelines, evaluation criteria, testing requirements, and safety requirements industrial robots.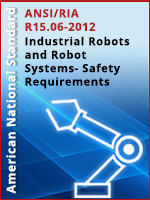 ANSI/RIA R15.06-2012
American National Standard Industrial Robots and Robot Systems - Safety Requirements
The purpose of this standard is to provide guidelines industrial robot manufacture, remanufacture and rebuild; robot system installation; and methods of safeguarding to enhance the safety of personnel associated the of industrial robots and robot systems.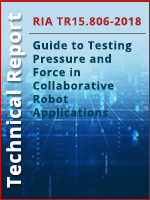 RIA TR15.806-2018
Guide to Testing Pressure and Force Collaborative Robot Applications
This report describes test methods and metrics measuring the pressures and forces associated quasi-static and transient contact events of collaborative applications. It provides guidance on determining conditions of the test measurements, measurement devices, and accurate testing methods.
Purchase PDF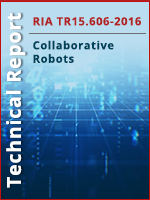 RIA TR15.606-2016
Collaborative Robots
TR 606 explains safety requirements specific to collaborative robots and robot systems and is supplemental to the guidance ANSI/RIA R15.06. The TR 606 document is a U.S. National Adoption of ISO/TS 15066; it was published 2016.
Purchase PDF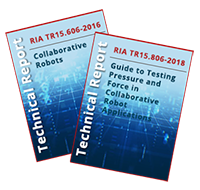 Collaborative Robot Safety Bundle
The Collaborative Robot Safety Bundle addresses the latest safety guidance collaborative robots. The bundle includes the RIA TR R15.606 – 2016 – Collaborative Robots and RIA TR R15.806 – 2018- Testing Methods Power & Force Limited Collaborative Applications. These reports highlight risk assessment, system design, force and pressure measurement and more.
Purchase PDF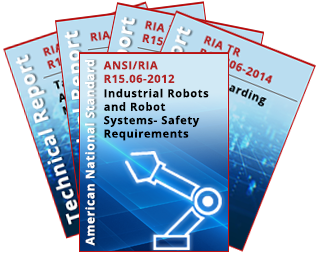 Super Safety Bundle
The Super Safety Bundle includes everything implementation of the safety guidelines contained the ANSI/RIA R15.06-2012: Industrial Robot Safety Standard. Includes the Standard itself, plus all four currently active Technical Reports (TRs 306, 506, 606, and 806). Format: PDF.
Purchase PDF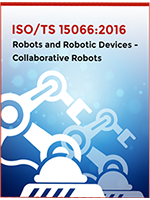 Technical Specification ISO/TS 15066:2016
Robots and Robotic Devices - Collaborative Robots
ISO/TS 15066 provides safety requirements collaborative industrial robot systems. Effective of TS 15066 assumes that the robot system under consideration is compliance Part 1 and Part 2 of ISO 10218:2011. (Note: Systems compliant ANSI/RIA R15.06:2012 are compliant ISO 10218:2011.)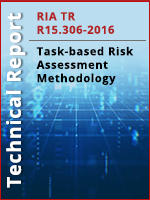 RIA TR R15.306-2016
Task-based Risk Assessment Methodology
TR 306 describes one method of risk assessment that complies the requirements of the 2012 R15.06 Standard.
Purchase PDF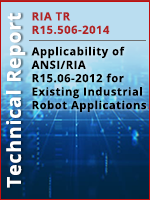 RIA TR R15.506-2014
Applicability of ANSI/RIA R15.06-2012 Existing Industrial Robot Applications
TR 506 explains to apply the ANSI/RIA R15.06-2012: Industrial Robot Safety Standard to existing robot systems.
Purchase PDF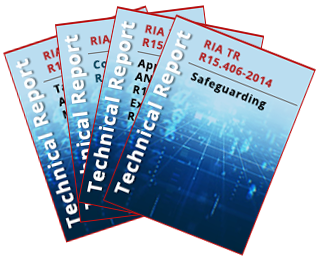 Industrial Robot Safety TR Power Pack
Purchase all five active ANSI-Registered Technical Reports (TRs) that supplement the ANSI/RIA R15.06-2012: Industrial Robot Safety Standard. Includes TRs 306, 406, 506, 606 and 806.
Purchase PDF