Members, login to get great discounts! 
Log In
A3 Store Product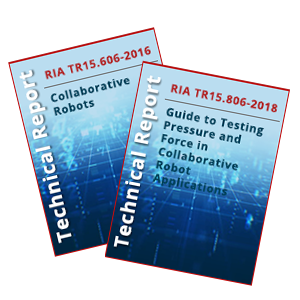 Collaborative Robot Safety Bundle (PDF Download)
The Collaborative Robot Safety Bundle addresses the latest safety guidance for collaborative robots. The bundle includes the RIA TR R15.606 – 2016 – Collaborative Robots and RIA TR R15.806 – 2018 - Testing Methods for Power & Force Limited Collaborative Applications. These reports will highlight risk assessment, system design, force and pressure measurement and more.
TR R15.606-2016 explains safety requirements specific to collaborative robots and robot systems and is supplemental to the guidance in ANSI/RIA R15.06. The TR 606 document is a U.S. National Adoption of ISO/TS 15066; it was published in 2016.
TR R15.806-2019: This report describes test methods and metrics for measuring the pressures and forces associated with quasi-static and transient contact events of collaborative applications. It provides guidance on determining conditions of the test measurements, measurement devices, and accurate testing methods.
**Please note: if you are purchasing a PDF version of a publication/document these items are non-refundable.