Members, login to get great discounts! 
Log In
A3 Store Product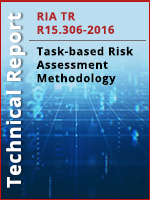 RIA TR R15.306-2016 Task-based Risk Assessment Methodology (PDF Download)
This document supplements Standard ANSI/RIA R15.06-2012: Industrial Robot Safety, which requries that a risk assessment of the robot system be completed in order to comply with the standard. TR 306 describes one method of risk assessment that would comply with the 2012 R15.06 requirements. (The 2016 version of TR R15.306 has been updated since the original version was published in 2014.)
**Please note: You are purchasing a PDF version of a publication/document these items are Non-Refundable.