Members, login to get great discounts! 
Log In
A3 Store Product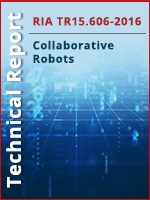 RIA TR15.606-2016 Collaborative Robots (PDF Download)
TR 606 explains safety requirements specific to collaborative robots and robot systems and is supplemental to the guidance in ANSI/RIA R15.06. The TR 606 document is a U.S. National Adoption of ISO/TS 15066; it was published in 2016.
**Please note: You are purchasing a PDF version of a publication/document these items are Non-Refundable.