Members, login to get great discounts! 
Log In
A3 Store Product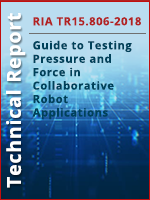 A Guide to Testing Pressure and Force in Collaborative Robot Applications - RIA TR R15.806 – 2018 (PDF Download)
This report describes test methods and metrics for measuring the pressures and forces associated with quasi-static and transient contact events of collaborative applications. It provides guidance on determining conditions of the test measurements, measurement devices, and accurate testing methods.
**Please note: You are purchasing a PDF version of a publication/document these items are Non-Refundable.