Members, login to get great discounts! 
Log In
A3 Store Product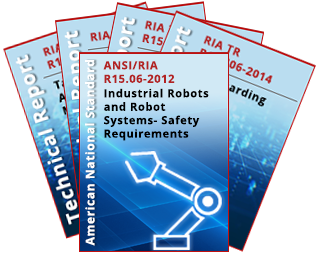 360 Robot Super Safety Bundle (PDF Download)
The Super Safety Bundle includes the base Standard ANSI/RIA R15.06-2012: Industrial Robot Safety, as well as the five currently active Technical Reports (TRs 306, 506, 606, 706 and 806). TRs are supplemental documents that were published after the base Standard and contain more guidance on particular topics. TRs can help you fully apply the standard safety guidelines in your own or your clients' robotic systems. Format: PDF. Included:
ANSI/RIA R15.06-2012: Industrial Robot Safety provides guidelines for the manufacture and integration of Industrial Robots and Robot Systems with emphasis on their safe use, the importance of risk assessment and establishing personnel safety. This standard is a national adoption of the International Standards ISO 10218-1:2011 and ISO 10218-2:2011 for Industrial Robots and Robot Systems. 160 Pages.
PLUS
TR R15.306-2016: Risk Assessment describes a method of risk assessment that complies with the requirements of 2012 R15.06, and it has been updated since the original version was published in 2014.
TR R15.506-2014: Existing Systems explains how to use the 2012 R15.06 with existing robot systems.
TR R15.606-2016 explains safety requirements specific to collaborative robots and robot systems and is supplemental to the guidance in ANSI/RIA R15.06. The TR 606 document is a U.S. National Adoption of ISO/TS 15066; it was published in 2016.
TR R15.706-2019: This report is directed to the user stakeholder, providing guidance and expanding on the responsibilities that are implied, but not stated specifically, in the R15.06-2012 Standard.
TR R15.806-2019: This report describes test methods and metrics for measuring the pressures and forces associated with quasi-static and transient contact events of collaborative applications. It provides guidance on determining conditions of the test measurements, measurement devices, and accurate testing methods.
(The TR 306 was updated and re-released in 2016; the 2014 version of TR 506 remains the most current version.)
**Please note: You are purchasing a PDF version of a publication/document these items are Non-Refundable.