Upgrading Your Factory to Industrial Automation
POSTED 04/21/2021
 | By: Dimension Funding, Equipment & Technology Financing Made Simple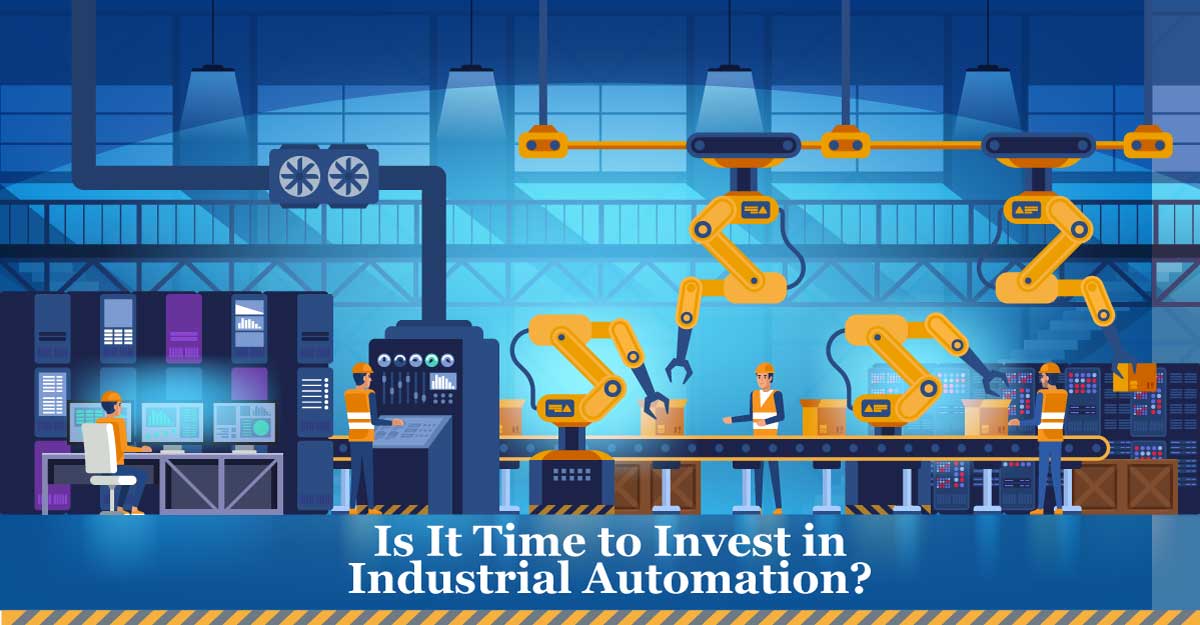 Many experts claim that Industrial Automation is fast becoming a standard that most companies and businesses will have to adapt if they want to remain competitive in today's corporate landscape. The benefits that this type of planned automation brings makes this claim very easy to rationalize.
Improved efficiency, reduced costs, and greater output potential are just some of the benefits industrial automation promises and their significance has far reaching positive implications both for the company and for their customers. With such haloed promises, industrial automation seems like a worthwhile investment.
However, it is imperative to understand if your specific business processes will benefit from it, the extent to which you can automate, and the best, most cost-effective way to finance it. Understanding all these factors is essential as making the wrong decision could prove to be a very expensive mistake.
Signs It's Time to Upgrade
If you spot some or all of these signs in your production process, industrial automation might be the solution you need to take your work to the next level.
Production Challenges - If you find that your equipment keeps breaking down, or that the product being produced is either inconsistent or flawed, then you may be due for a much-needed upgrade. The right automated system can lead to more efficient production, and the ability to reach new quantity and quality standards that would be impossible otherwise.
Labor Costs - In certain industries like food processing and manufacturing, labor costs are always notoriously high because of the tough working conditions and high employee turnover rate. The constant need for hiring and retraining makes the cost of labor a significant expense. Besides improving worker safety, installing automated machines increases production capacity and allows new and unique products to be produced without the hassle of training and updating staff.
High Prices - This is linked to the previous point. If the cost of production is high, then the price of the product being produced will also have to be increased to accommodate this. In very competitive industries, high prices will almost certainly reduce demand for a particular product. Using updated technology might be a steep investment in the beginning, but it will significantly reduce operating costs in the long run. Offering the same product at a lower price and higher quality is a huge advantage that might just give your business an edge over the competition.
Expansion - A company looking to expand its product line or take their production processes to more cities or even to a different country will have to look into employing automation. Not only will this keep quality predictable, but the lower cost of manufacturing will also allow them to compete with cheaper products from countries like China and India.
Waste - Lean manufacturing processes where wasted resources are minimized is a hallmark advantage of automated systems. Besides the obvious loss in terms of potential revenue, factory waste is very bad for the environment. With increasing calls for factories to stay accountable for the amount of waste they produce, the social standing of your business might be in jeopardy if this waste isn't permanently and properly taken care of.
Ultra-Precise Assembly - In industries like electronics manufacturing, the need for precision sometimes extends beyond human capability. Machines have the ability to produce highly technical components and using advanced sensors can mitigate a lot of the uncertainty and danger that is associated with these processes.
The Cost of Automation (Banks vs Private Financing)
Once you've established that automation is critical for your business, because of the above reasons or otherwise, it's now time to acknowledge the elephant in the room: The cost of implementing said automation.
These systems are not cheap and depending on the scale and type of machine you're looking to purchase, will be a steep initial investment. This is a non-issue for larger firms as they can just take-out hefty bank loans at high-interest rates to finance these expenditures. It's a different story for smaller businesses who might have some trouble getting assistance from banks or other corporate financing schemes.
The best option for these small businesses is often to use equipment financing through private financing companies. There are many advantages of this approach, a big one being the fact that only the equipment is taken as a security for the financing. This is in contrast to banks that require all of the company's assets as a security for the financed equipment.
Banks also don't account for other expenses like transporting the equipment, installing the equipment, and maintaining it. Private financing options take all these costs into account to make sure no unpleasant surprises are waiting at the end.
Another huge advantage in favor of using private financing is the ability to break the cost of the equipment down into smaller, fixed monthly payments. Unlike banks that use variable and floating rates for their payments, financing companies have a fixed rate. This allows you to treat your loan like any other operating expense that is both constant and easy to plan and account for. Instead of worrying about using up large reserves of cash for your expansion, you just have to worry about this one monthly payment which frees up working capital for you to invest in other parts of your business.
The process of attaining equipment financing is fairly straightforward. Private lenders supply capital to businesses and specialize in commercial and lease financing for any type of equipment needed. Some companies finance 100% of the costs associated with the equipment and can even accommodate the costs of training employees to effectively use the new equipment.
The application process is even simpler. You can apply for up to $250,000 without providing financial statements and if you want a larger financing option, that can be arranged too with a streamlined, hassle-free paperwork process. You apply online and, after your application has been received you can get approved in just a few short hours. Fast, reliable, and affordable financing options make the hurdle of taking the next step that much easier.
Smart investment in technology is the best thing you can do for your business in any industry that you operate in and automation is revolutionizing how much we produce and the quality of what we produce.