Certified Vision Professional
Basic Certification
List of Courses Included in the CVP Basic Certification Class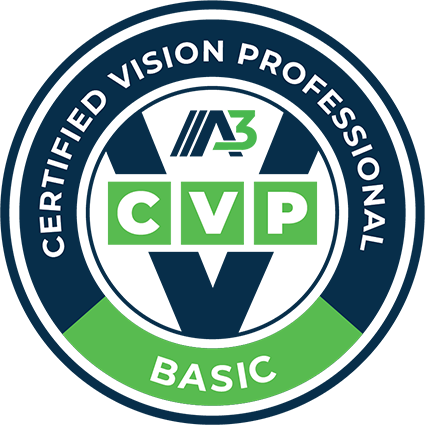 The Fundamentals of Machine Vision
You'll learn all the basics, including how images are captured and transferred to the computer, the principles of lighting, and the common processing algorithms used by machine vision systems. Discover how to successfully implement machine vision and how to avoid common pitfalls during the implementation, launch and production phases. This is an ideal training course for people new to machine vision as well as a great refresher course for anyone with machine vision responsibilities.
Beginning Optics for Machine Vision
This course teaches the fundamentals for optics for machine vision and robotics. Students will learn the fundamental parameters of an imaging system and why they are important, as well as how to choose a lens using first order parameters. The course then teaches the concept and real-world applicability of the modulation transfer function (MTF) and how to manipulate an MTF with different variables to change things such as the depth of field. Lastly, the course will introduce telecentric lenses and how they are different from more traditional imaging optics.
Beginning Lighting for Machine Vision
This course focuses on providing the attendee with a background and a basic set of tools to apply a more rigorous analytical approach to solving lighting applications. Topics covered include overview of light, lighting geometry and structure, color tools, filters - illustrated by examples and graphics. We also briefly address LED technology, safety, radiant power measurements, illuminator strobing and preview advanced lighting non-visible and geometry techniques.
The Fundamentals of Camera and Image Sensor Technology
Gain an understanding of digital camera principles. Find out about different camera types and their capabilities. Learn about what digital interfaces these cameras use, from Gigabit Ethernet to Camera Link HS. Other topics include how image sensors capture light, basic understanding of image quality terms, digital camera parameterization, and the capabilities of monochrome versus color sensors.
Image Processing Fundamentals
This course will cover 2D & 3D machine vision camera calibration for machine guidance including for industrial robots and basic information on the types of industrial robots in use today. Along with the various methods for representing 3D positional data for both machine vision and industrial robotics and how to ensure a machine vision system will provide useful positional data to an industrial robot for a Vision Guided Robot (VGR) application. Details of how to implement a fixed mounted and robot mounted 2D/3D VGR application as well as examples of each will also be presented.
Vision System Design
Ultimately the value of any machine vision technology lies in the successful implementation of a systems solution for a task in an automated process. The knowledge gained in cameras, lighting, optics, and image processing is the foundation required to move on to the successful design of a working machine vision system. In this course, you will learn the role of machine vision systems design in the broader task of systems integration and the general steps and strategies involved in the design of a vision system, including selection of components in typical use cases, and specification of the implementation of those components. The information provided will enable you to participate in and support a team delivering practical machine vision to plant floor automation.
Member Access
Watch CVP-BASIC Training Videos taught by industry leaders. Subscription required.
Meet Certified Vision Professionals
View a list of Certified Vision Professionals - Basic.
Virtual Exam
View available dates for a live, proctored exam and test your vision training knowledge