Allied Vision Product
Mako: Low-Cost Industrial Cameras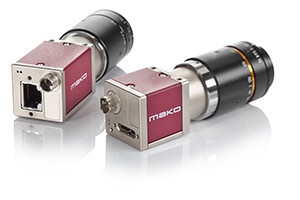 Allied Vision's Mako cameras offer an excellent price to performance ratio and wide range of high performance CMOS sensors The Mako is Allied Vision's low-cost industrial camera packed with features to meet your machine vision needs in applications such as robotics, quality control, inspection, surveillance, industrial imaging, logistics, and much more. Mako cameras feature the latest CMOS sensor technologies from renowned manufacturers, such as Sony, CMOSIS, e2V, Aptina and OnSemi, to ensure excellent image quality. Mako cameras utilize two plug-and-play interfaces, GigE VisionTM or USB3 VisionTM, for an easy integration into standard image processing systems. You will also have access to our popular and free Vimba software development kit (SDK), or you may choose from a wide range of industry standard third-party software libraries (National Instruments LabView, MVTec Halcon, Cognex VisionPro, etc.). Mako cameras come with a 3-year warranty and excellent customer support to help you get the most out of this small, low-cost, featured-packed camera. Mako cameras models offer resolutions from VGA to 5 Megapixels, frame rates up to 550 frames per second, features such as camera temperature monitoring, pixel defect masking and many more. Models utilizing near-infrared (NIR) optimized sensors are also available. The Mako can be tailored to fit application requirements using the Allied Vision Modular Concept. Select from various options such as IR cut/pass filters, protection glass, lens mounts and white housing for medical applications.
Other Products from Allied Vision
Goldeye SWIR cameras utilize InGaAs sensor technology offering imaging in the short-wave infrared spectrum (900 nm - 1,700 nm). Available with a Camera Link or GigE interface, Goldeye SWIR cameras offer very high frame rates and capture outstanding low-noise images.