ABB Inc. Product
ABB IRB 1200 Small Robot Family
Model: IRB 1200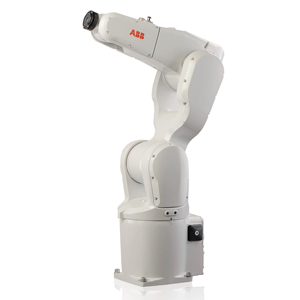 The IRB 1200 is a family of small robots that features a compact footprint and a large work envelope, providing flexibility, ease of use and short cycle times to a wide range of material handling, machine tending and small parts assembly applications.
Combined with other signature features, the longer stroke enables up to 15% smaller work cells and 10% shorter cycle times than comparable robots.
The compact installation is especially pronounced when the smaller, lightweight robot is invert mounted on a ceiling or wall inside a small cell, maximizing the efficient use of space.
Available in two standard variants; a 700 mm reach model with a payload of up to 7 kg, and a longer reach 900 mm model with a payload up to 5 kg.
Food Grade Lubrication and Clean Room option: The Food Grade Lubrication (NSF H1) option includes Clean Room ISO class 3 and IP67 protection rating which ensure uncompromising safety and hygiene for food and beverage applications. The Clean Room ISO class 3 design eliminates the potential for contamination of the food handling area. This option provides smooth surfaces and makes it easy to keep clean and maintain in environments such as CNC machine tending and material handling in the food industry. This results in features that allow for 15% smaller cells with 10% shorter cycle times.
Foundry Plus 2: The IRB 1200 is also available with Foundry Plus 2, ABB's optional protection system which allows it to withstand harsh environments for example heavy duty metal casting and automotive applications.
Click here for more information.
Other Products from ABB Inc.