Robots Pave the Way for Safer, More Productive Workplace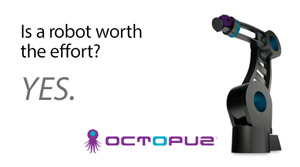 Congratulations! You've made the leap into the world of robotics. At this stage you've identified the process that will become automated and selected a robot integrator to manage the path to implementation. But sometimes you find yourself wondering if it's really worth the effort.
If you value increased productivity, improved employee health and safety, greater profits and a higher level of quality, then the answer is a resounding yes.
"As soon as the robot gets tweaked in and everything gets running, for a marginal investment you're going to see a fairly big return," said Warren Reynolds, General Manager for I-Cubed, which specializes in identifying and integrating robotic solutions. "Right away off the top there's a reduction in human error and runtime cycling repeats, there's increased productivity, accuracy in quality…"
Robots can have a dramatic impact on how work is performed, regularly matching or exceeding the efforts of their human counterparts. Here are a few of the advantages that come with this continually-evolving technology:
Productivity and profits go up.
Robots can work around the clock without a break, creating a more efficient manufacturing cycle that produces products or carries out tasks at a faster pace. They're less likely to make mistakes and can repeat their tasks at a predictable rate without risk to health or safety.
Solid ROI.
After the initial investment, robot expenses are generally limited to maintenance. Most companies can expect to see a return on their investment in six months to a year.
Higher level of quality.
There's no denying the accuracy and precision that a robot brings to any operation. In turn, extra savings can result from the reduction in waste when robots are integrated into the manufacturing process.
Robots have a smaller footprint but a larger work zone.
Within that zone, a robot will have more degrees of freedom compared to other equipment, which can make it the more versatile option. The side benefit of that reduced footprint is square footage that becomes more profitable.
One robot can carry out multiple tasks.
Because they can be configured for more than one function, whether by adding a different tool or making programming changes, a single robot can be surprisingly efficient. "There are four of them here that we use daily and program them offline," Warren said. "In one day we change over 12 programs." And thanks to offline programming with a program like OCTOPUZ, changes can be made to the robot's task without impacting uptime.
Increase in employee safety.
Bringing in a robot to do a task that puts employees in jeopardy makes sense, both fiscally and ethically. Robots are equipped to perform in hazardous conditions and can lift heavy loads without injury. Ongoing advancements in work cell safety features, from light curtains to physical barriers, keep employees out of harm's way and can lead to a reduction in workplace accidents.
With the proper research and preparation, integrating a robot into the manufacturing process is a decision you will not regret. In a surprisingly short time, the advantages will start to pay off.
"You'll see a lot of immediate benefits if you take the time and you do it right," Warren explained. "Take the time to get the training and plan out the project and it will pay for itself pretty quick."
OCTOPUZ is the intelligent offline robotic software ideal for any path-sensitive application by In-House Solutions. To learn more about OCTOPUZ or to request a free personalized software demo for your application, contact OCTOPUZ.