Why Should I Automate?
POSTED 02/22/2019
 | By: Tanya M. Anandan, Contributing Editor
Whether you are new to automation or a seasoned veteran looking to expand your organization's capabilities, North America's broadest automation event – Automate 2019 – has it all in one place. Educational tracks, the latest technology, plus networking opportunities with industry leaders and up-and-comers. Hosted by the Association for Advancing Automation (A3) and its trade groups – Robotic Industries Association (RIA), Association for Advancing Vision + Imaging (AIA), Motion Control & Motor Association (MCMA), and A3 México – this biennial event brings together over 500 exhibitors and 20,000 attendees from around the globe.
Experts from every corner of the automation industry converge in Chicago. They share their knowledge and experience during four days of conference tracks covering every aspect of automation, from the latest innovations in collaborative and mobile robotics to 3D vision, AI and smart manufacturing. For newcomers, we've designed a conference track just for you and surveyed a few of the speakers for this preview.
The "How to Automate" Track will kick off on the first day of the conference with the ever-popular Bob Rochelle presenting "Getting Started with Robotics" followed by Jason Markesino covering "Automation 101." He'll define automation industry jargon, discuss the automation journey from design to production, and share common pitfalls to avoid along the way. If you're new to automation, this track is for you! Check automateshow.com for topics, dates and pricing. Enjoy the Automate show for free!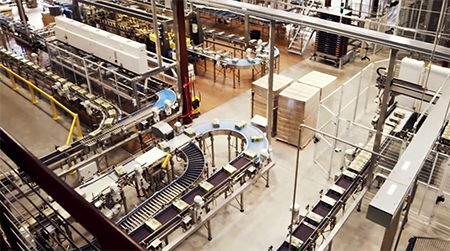 Right (and Wrong) Reasons to Automate
Automation is renowned for improving productivity and throughput, reducing labor costs, and boosting quality. It can also save floor space by better utilizing available work areas and improving process flow. Many other benefits may be difficult to quantify, but just as impactful.
Increase productivity and throughput
Reduce labor costs
Alleviate labor shortages
Save floor space
Improve quality and consistency
Reduce waste
Increase tracking and traceability
Improve safety and ergonomics
Promote labor to higher-value tasks
Automation and robotics work tirelessly 24/7. They don't take breaks or get distracted, or require vacation time and sick leave. Robots and reliability go hand in hand.
"Humans are humans, they will mess up from time to time," says Mark Sumner, Vice President Sales and Marketing at Acieta LLC, an A3 Certified Robot Integrator with locations in Waukesha, Wisconsin, and Council Bluffs, Iowa. "Robots are very repetitive, they are very consistent, which means you will get a rather consistent part every single time. This reduces scrap."
Automation also improves traceability.
"We're becoming more data-driven with metrics and tracking," says Jason Markesino, Engineering Group Leader for the Industrial Automation Group at Applied Manufacturing Technologies (AMT), an engineering services company and systems integrator (RIA Certified) in Orion, Michigan. "For example, one of our customers is doing inspections; they are human inspections. But their customer wants pictures, they want recordkeeping. They want to know that the inspection was done and what it looked like, and whether it passed or failed."
It's difficult to know what a human worker is doing at any given moment. By digitizing the manufacturing process with robots and other automation, the more control you have, the more traceability and predictability.
By putting this digital data to work, digitalization will transform manufacturing and logistics, setting the stage for Industry 4.0. More reason to automate.
Labor Shortages Widening
Worker shortages are quickly overtaking productivity as the primary reason to automate. Manufacturers need to get things done, but they can't find the people to do it. Enter automation.
The numbers highlight the growing problem.
We closed out 2018 with an all-time high 7.3 million job openings, according to the U.S. Bureau of Labor Statistics Job Openings and Labor Turnover Survey (JOLTS) released on February 12. This represents a job openings rate of 4.7 percent, higher than the 3.9 percent unemployment rate. Job postings continue to exceed the number of unemployed by one of the widest gaps in the new millennium.
Contributing to the widening gap are the 10,000 Baby Boomers reaching retirement age every day, according to the AARP. This is expected to continue into the next couple decades.
"With the way the Baby Boomers are retiring and younger generations are not getting into manufacturing, that gap is only going to widen," says Sumner.
In some cases, it's not just a shortage of people, it's a lack of interest in certain types of jobs.
"I spent time at a customer where their production is doing grinding," says Markesino. "It's a dirty environment that people don't want to work in. It's just not desirable."
Dirty, dull and undesirable jobs create unhospitable working conditions for humans, another reason to automate. So are dangerous jobs, where people, and even robots, are driven to extremes.
Undesirable jobs create "revolving doors" and labor woes. Jobs with high turnover rates require an endless stream of new employees that need training. Robots can be trained once on a task and then repeat it with consistent performance.
By creating a better work environment with automation, companies make their workplaces more appealing to job seekers. The dull, dirty and dangerous work can be left to the robots. Human workers can move to higher-value tasks.
Leveraging automation while protecting and empowering your human capital has a positive impact on your ROI.
ROI's Short- and Long-Term Benefits
Return on investment (ROI) is more than just direct labor savings and short-term benefits. The ROI for robotics and automation should take hard and soft costs into consideration.
"ROI for robotic systems pays back within two years," says Acieta's Sumner. "That's the general rule. But we can consistently get them faster than that depending on how we design an inbound and outbound queue, and whether we run at lights-out or not."
Sumner will speak on "The ROI of Automation: Your Path to Survival" at the Automate 2019 conference. Join his discussion April 8 to learn how robotic systems enable manufacturers to deliver higher quality parts and maximize throughput, all while keeping workforce numbers consistent and employees safe. Also meet up with him on the show floor.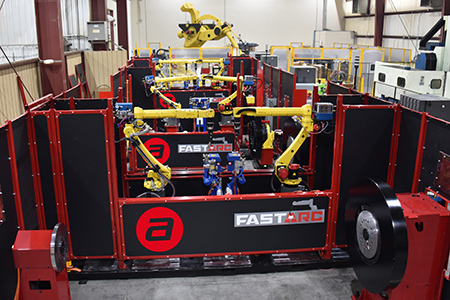 Acieta, booth 7914, will showcase its FastARC pre-engineered robotic weld cell, an affordable option for companies adopting automation for the first time, or organizations looking for a strategic automation partner to help them move forward. For companies facing capacity challenges, labor shortages or quality variability, these standard cells help address key business challenges – fast. Manual welding requires an operator to maintain consistent torch orientation and arc length over a long production run. Fatigue leads to mistakes and lower output. Automation solves these problems.
Acieta will also feature its FastLOAD standard cell, aka your robotic muscle. This tool tending machine minimizes waste by quickly swapping out one part for the next. Whether tending a lathe, mill, press or molding machine — adding a robot boosts utilization and lowers costs. Another one of Acieta's robotic automation solutions will be showcased in trusted partner SCHUNK's booth. Catch them both at Automate!
Sumner says labor costs have increased dramatically, further making the case for automation ROI.
"Right now, the average cost of training a new hire is about $7600," he says. "With a robot, you don't have to worry about labor costs increasing and about repetitive onboarding and training, especially if it's a high-turnover type of job. Those productivity gains should be factored into ROI."
You should also take into account soft costs such as ergonomics, insurance costs and liability.
"Take a person handling a 50-pound part day in, day out and moving the same way. When he gets home at night, he's too tired to play with his kids because his back hurts, because he's been in a hot environment all day. That has an impact on the employee. Would it be better to put a robot in that position and have that same employee promoted to running that robotic system, and maybe doing other tasks as well?
"If you're handling a 50-pound part all day long, by the afternoon, your quality may slip a bit," continues Sumner. "Quality definitely improves because of a robot's repeatability."
The real benefit of robots is about positive cash flow over the long term.
"We just replaced a 25-year-old robot for a customer, so if you figure that system had a two-year ROI, then that robotic system has been printing cash for 23 years. The robot is still usable," says Sumner. "The only reason they replaced it is because they wanted new technology that is faster, and the person that used to be able to program the robot has retired."
Consider all the direct and indirect benefits of automation. Then do the math, and think long term.
No Silver Bullet
Productivity, quality, safety and ROI are all great reasons to automate. Beware of the wrong reasons.
Tom MacLean, AMT's Senior Advanced Manufacturing Engineer, warns against the "spend it or lose it" motive. He urges companies not to purchase robotics or other automation just because they need to deplete their capital budget before the fiscal year ends. Impulse buys lack clear justification, goals and strategy. A poor outcome is usually the result.
"An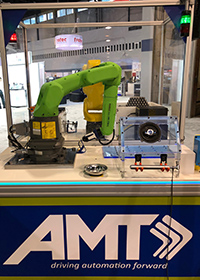 other one we see a lot is the silver bullet," says MacLean. "Companies want to zero in on this one aspect of a giant process. They think if they can get just one machine that will do whatever that is, then everything else will get fixed and all their problems will go away. There's rarely one magic bullet that solves all their issues."
He also cautions against "keeping up with the Joneses" as a reason to adopt automation. Just because another company or competitor chose to go the automation route, doesn't mean that they made the right decision or that it will work for you. There are too many variables and each case is different. An experienced systems integrator or engineering services company can help you sort out the whys and hows.
With the busy tradeshow season in full swing and Automate just around the corner, MacLean says be wary of the cool factor. Just because you saw something cool at a tradeshow doesn't mean it's the right answer for what you hope to achieve. "The latest and greatest" is not always your best choice.
Collaborative robots, or cobots, have made a big splash. Their lower price points and ease of use make them especially attractive to small and midsized businesses with limited resources. But they are not the panacea for everyone. Fenceless safety and human-robot collaboration come in many forms.
Applied Manufacturing Technologies, booth 7511, will feature two different workspace designs demonstrating collaborative technologies. One side of the display uses a collaborative robot with force sensing capability that will stop the robot motion if it contacts an operator. This setup allows the robot to work cooperatively with a human to build assemblies in a shared workspace. The other side of AMT's display incorporates floor scanner devices with a standard industrial robot. This system allows the robot to work at high speeds when a human is not within the work area. The robot will modify its speed as a human approaches the table to perform intermittent tasks so that a safe condition is always achieved. These are just two examples to show how collaborative technology can be applied in different ways to suit the automation process and create opportunities for humans and automation to work together safely and effectively.
Automation Made Easier
Automation is now easier to implement, maintain and redeploy. Lower prices on robots and other hardware components make them more accessible. Advances in software, processing power and sensors make robots smarter and automation easier to integrate.
Although robots can be intimidating for automation newcomers, integration experts say they don't have to be.
"Some people say that they are easier to program then CNC machines," says Acieta's Sumner. "The robot manufacturers have done a really nice job of simplifying the interfaces and the programming to make it very user friendly. Of our customers that bought their first robot, 90 percent of them buy a second robot. They may be scared to pull the trigger on the first one, but then they see the benefits and they want more."
Today's robotic cells are usually equipped with an intuitive HMI (human machine interface) that emulates your smartphone or tablet in ease of use. New generations of workers have grown up with these technologies and are naturally comfortable with automation.
There is also widespread availability of training and education documentation online. You can find free and paid tutorials on just about any subject on sites like YouTube and Udemy. Most of the robot manufacturers and reputable integrators offer comprehensive training programs for programming, operating, and maintaining robots and other automation solutions.
While automation and robotics is getting easier, it's not always practical for everyone. And there are right and wrong ways to go about implementing it. Beware of the pitfalls.
Avoid the Pitfalls
The last thing anyone wants to see is a robot being used as a coat hanger, or any piece of automation sitting in the corner collecting dust. It's important to understand the advantages of automation and its limitations, and how your goals align with those opportunities and constraints.
Save the tasks that are overtly complex, non-repetitive or require judgement, for the humans. High-mix, low-volume applications require careful evaluation to ensure the automation can handle the variability both technically and cost-effectively. Otherwise the business case disappears.
"Use the automation for what automation is good for, and use the humans for what humans are good for," says AMT's Markesino. "It's important to understand your specification upfront and to understand the limitations of the automation. Just because you put a camera on the robot doesn't mean the robot has the same vision that a human does."
He says it's also important to understand the limitations of the automation at your respective price point. Don't expect more than you can afford.
"Automation projects usually fail because we didn't have all these discussions upfront," says MacLean. "When you get the bar napkin RFQ and then you quote and there's not enough detail, you end up with people pointing fingers at each other a year down the road. You need to have functional specifications about exactly what's supposed to happen. The performance requirements, regulatory requirements, technical requirements, specifics about the products and types of materials being handled, and all those other details that go into a specification."
MacLean's presentation at Automate will focus on "Balancing Your True Objectives for Automation when Optimizing Your Manufacturing Process." He says it's important to understand that there are both technical and business challenges to every automation project. To ensure automation makes a positive impact on your manufacturing environment, it helps to understand your true objectives while balancing these technical and business challenges along your journey.
"The way we look at it is our end customer, the decision maker, which might be a plant manager or a VP of manufacturing operations, the final signature to spend money on automation, what do they care about? It's quality, cost and delivery," says MacLean. "So everything we do from the perspective of automation, should be keeping those goals in mind.
"On day one, as part of our advanced engineering manufacturing process, we get all the stakeholders in the room and hash out what's important and prioritize them, all the while keeping quality, cost and delivery in mind. We make sure we understand all your parameters and what the business requirements are early on. Where are you today and where do you want to be tomorrow? We have all those conversations upfront. That sets the trajectory up for success."
Understand the Journey
Buy-in is also critical. Projects can fail because someone within the organization is not invested in the automation journey.
"Everybody across the C-suite, everybody at the management level who will be running the automation and championing it on the floor, they need to buy into the system," says Acieta's Sumner. "The operators who are running it every day are always the most skeptical, but if they see a unified front at the C-suite level, it will help the operators accept it more readily.
"The cost of the robot itself is only a small portion of the entire system," he continues. "The important part is having the right team engineering the system to make sure that the robot reach is right, the gripper technology is right, the program is right, and to make sure the cell is built right."
AMT's Markesino cautions manufacturers to not bite off more than you can chew. Start slow to get your feet wet.
"Maybe you have a small portion of a line that you want to automate that is not essential to production or one that has a manual workaround, so you can try to get up to speed on it first. That will help you understand the automation and get comfortable with it.
"Train employees to help them get familiar with the automation," he continues "That will help them to accept the equipment. Understand that there is a skillset required to run automation and you may need to take some of your current workforce and try to upskill them. Understand your workforce and the goals of the automation."
Most importantly, know that you don't have to take the automation journey alone. Experienced integrators, engineering services companies, and also robot manufacturers, can help you achieve your goals.
How to Choose a Systems Integrator
Working with a systems integrator can help ensure project success by bringing in outside perspectives and valuable experience. Experienced robot integrators adhere to a system of best practices. For most it's a mindset, a methodical approach to the integration process that ensures the highest rates of success.
Leon Grossman, Project Manager for DMC, Inc., a software and engineering services company in Chicago, Illinois, will also speak at Automate. His conference presentation will provide tips for finding the right systems integrator and achieving a successful partnership.
When seeking out an integrator, Grossman suggests starting with your local automation equipment distributors. They have relationships with local integrators and can usually make recommendations. Once you have a few options, he suggests taking a close look at each integrator's website.
"Is it professional? Have they worked with your platform before? Do they have certifications? Certifications indicate that a company has gone through a rigorous study of their procedures," says Grossman. "It says something about their professionalism and their willingness to go the extra mile to do good work."
DMC is a Siemens Solution Partner and is CSIA Certified by the Control System Integrators Association, among other industry-leading certifications and integrator partnerships. Grossman says they've worked with every major platform, including Siemens, Allen-Bradley, Omron, FANUC, ABB, Yaskawa, DENSO and Epson.
"We only do software," says Grossman. "We partner with other companies to do the systems, the hardware build and the electrical design. We specialize in making all of the disparate system components, like vision, safety or a robot, work together. For example, someone might call on us to develop a complex motion pattern for a six-axis robot applying nonstick coating to parts. We actually did that."
In another project, DMC worked with Siemens to develop a modular brewing template geared towards craft brewers. The template project contains a fully functional sample brewhouse including full sequence simulation and recipe logic all accessible through an intuitive HMI. The solution was implemented for Founders Brewing, a prominent craft brewery in Michigan, at their Detroit brewpub. Watch it in action.
Grossman suggests that you make sure your integrator will be able to maintain the support system long term. "Your top concern should be your total lifespan. The cost should be reasonable, but make sure you will be able to use it for the lifespan you have planned."
His top tip when evaluating a systems integrator, ask about the source code.
"Will they provide you with the source code at the end of the project? This is critical. I've lost count the number of times I've had to go out on a machine that's 10 or 15 years old and the original OEM is either out of business or unwilling to help. Now we have to try to recover that machine from scratch. When you're working with somebody that is doing a custom system, don't accept anybody that does not provide the source code.
"Someone might know how to program an Allen-Bradley system, but not a Siemens PLC," says Grossman. "But they try anyway. We had to rewrite an entire factory's AS/RS system."
He says they occasionally have to rescue systems when the chosen integrator is in over their head or internal staff doesn't have the skillset to implement the system to the necessary requirements. Knowing your integrator's capability before you start a project can save implementation trouble on the back end.
"We do this every single day," says Grossman. "We program machines. We are developing the standards. We know how to make the code maintainable, usable and scalable. Working on a lot of systems gives us a lot of skillsets."
His advice on the best way to ensure success – Treat your integrator like a partner. Their goal is your success.
Ready to start your automation journey? Find your next partner at North America's largest expo devoted to automation technology and innovation.