Robots in the Lab
POSTED 10/05/2012
 | By: Bennett Brumson, Contributing Editor
Tasks in the life sciences, pharmaceutical and biomedical industries have always been complex and time-consuming. With the advent of new diseases and medical disorders, these undertakings will only grow in complexity. Due to their speed and precision, robotics are called upon to meet the ever-increasing scope and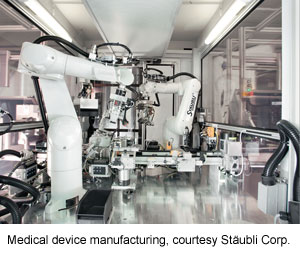 range of chores in today's research and development biological laboratories.

Robots and enabling software increase throughput, foster compliance with Food and Drug Administration (FDA) regulations and augment product safety while thwarting counterfeit products infesting the market.

"Laboratory automation, pharmaceutical manufacturing and drug discovery are growing fields for robotics. Robots have huge potential in these fields, from research and development to increasing throughput by speeding drugs to market at a lower cost to consumers," says David Arceneaux, Business Development Manager with the Stäubli Corp. (Duncan, South Carolina) "We will see robots performing many different applications in these fields in the future."

End-users, integrators and robot manufacturers have the opportunity to see and show off the latest and greatest products geared for the pharmaceutical, biomedical and life science industries at Automate 2013, January.21-24 at McCormick Place, Chicago, Illinois.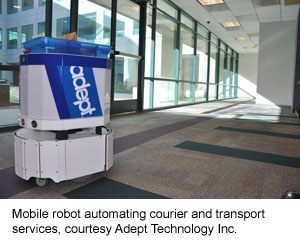 Lab Work
Robots perform a wide range of chores in life sciences, pharmaceutical and biomedical applications. Rush LaSelle, Vice President and General Manager of Adept Technology Inc. (Pleasanton, California) spells out some of these tasks. "Automation is employed in life sciences for cell culturing, a complex batch processes with a multitude of distinct steps carried out over long periods. Clinical laboratories use robotic systems for test tube sorting in a wide range of tasks such as dispensing, labeling and capping."

Robots handle test tubes and flasks, sort test tubes and have a major role in drug discovery. LaSelle also says mobile robots transport laboratory specimens. "Mobile robotics are implemented for intra-departmental and inter-departmental use, providing on-demand and scheduled transport of laboratory specimens and pharmaceuticals."

Trends
Robots help researchers and scientists focus high level tasks such as analysis of potential therapeutic compounds rather than mundane although necessary duties of mixing compounds to determine curative characteristics.

"Efforts to improve throughput and quality in all areas of life sciences drive investment in automation" says LaSelle. "The desire to eliminate menial tasks from high-wage clinicians and laboratory technicians is an increasingly prevalent factor in changing processes by freeing these trained personnel to attend to higher value activities."

Continuing, LaSelle says, "Many tasks in life sciences, pharmaceutical and biomedical applications are highly repetitive, requiring little thought or human intervention. These tasks have historically been left to interns and students due to the relatively low value placed on the activities." LaSelle says robots provide researchers more time to perform high level duties. "High incidence of error is a byproduct of repetitive tasks being performed manually. Robotics alleviates that potential for error."

LaSelle goes on to talk about the role mobile robotics have in saving time of personnel in the biomedical, life sciences and pharmaceutical sector. "Automation will extend beyond traditional robotics to include more mobile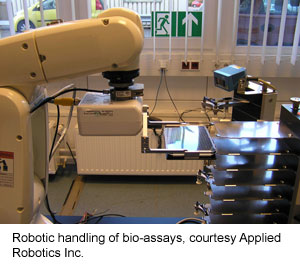 systems. Logistics represents tremendous savings opportunities across many industries including life sciences, laboratory and pharmaceutics. Delivery of drugs from an onsite pharmacy to a nursing ward within a hospital or the transport of specimens from one area of a laboratory to another can be both time sensitive but a highly inefficient use of staff time."

Likewise, Henry Loos, Application Engineer with Applied Robotics Inc. (Glenville, New York) says "Laboratory, life science and pharmaceutical robots perform many mundane and error-prone tacks such as mixing, picking, placing and sampling. More importantly, robots perform tasks in environments hazardous to humans, either biologically or pharmacologically."

Error-proofing is also on the mind of Stäubli's David Arceneaux, who says, "Humans can make mistakes. Taking the human element out of the equation and utilizing robotic automation is a viable solution" to preventing errors in medical device and pharmaceutical production.

The inherent flexibility of robotics lends itself to pharmaceutical, biomedical and life science applications, says, Joseph Fox, Vice President of Marketing and Sales at Systematix Inc. (Waterloo, Ontario, Canada).

"Flexibility, the ability to use capital over again for different kinds of elements in a product family or different products all together, is the biggest trend in laboratory, pharmaceutical and life science applications. In the next three years, the robotics industry will build on that flexibility," says Fox. "Flexible systems are the norm not the exception in life sciences, pharmaceutical, biomedical applications. The ability to reuse capital equipment has become much more important. Manufacturing costs in the life sciences business are more focused on mutual manufacturing activity."

Flexibility of capital equipment has become vital in the life sciences industry, Fox says. "Flexibility is necessary, especially in medical device manufacturing because those devices have become more complicated, smaller and utilize very sophisticated materials that have very precise requirements. The industry continually drives towards flexibility, to spread costs of robots over many different kinds of products."

Track and Trace
Robots are one of several tools pharmaceutical and medical device manufacturers have to comply with FDA track and trace regulations, 21 CFR Part 11 (guidelines for electronic records) and 21 CFR Part 211. (current good manufacturing practice for finished pharmaceuticals) Similarly, robotics and associated software provides safeguards against counterfeit medications from infiltrating the market.

"Using robotic automation in concert with traceability tools such as bar code readers, vision recognition and weighing of the product, manufacturers can better control these requirements," says Arceneaux. "Robotics defend against counterfeiting by controlling the flow of products through bar code traceability." Pharmaceutical companies have an interest in guarding against counterfeiters, an interest that will lead to an increase in robotics in production, Arceneaux concludes.

Radio frequency identification (RFID) serves the need of tracking and tracing products through the manufacturing process, says Joe Fox. "RFID is the most sophisticated because the tags are either embedded as chips as part of the packaging or printed onto the product's label. The RFID device is read at the end of the production process remotely, up to five meters away, while still part of a plant's inventory." Fox says RFID assures product is tracked and traced from the production side and the distribution side of the supply chain to prevent counterfeiting.

Henry Loos talks about error-proofing through robotics. "As in any industry, the use of robots eliminates much of the human error in any process. Record-keeping is more reliable and more accurate when scanning and identification are done by vision-enabled robots."

Rush LaSelle also speaks of robotics as a weapon to combat pharmaceutical forgeries.

"Robotics provide verifiable 100 percent inspection, handling and sortation by removing the variability inherent with manual processing. Robots coupled with vision inspect labels and bar codes to ensure products have been appropriately placed and batched for accurate processing or delivery."

LaSelle says robots help comply with FDA regulations requiring management of electronic records and signatures.

"FDA regulations establish the criteria under which electronic records and signatures can be considered equivalent to paper-based records and handwritten signatures. With shorter product life-cycles increasing the risk of poor quality, standard methods of traceability are no longer practical," LaSelle says. "Manufacturers need to electronically track when changes to software have been made in order to demonstrate traceability within a process and ultimately overall accountability."

Vision-enabled robots provide a means to abide by FDA tracking demands to all facets of the pharmaceutical and medical device production chain.

"The FDA requires traceability of not only the experiments, specimens and products, but the changes made to machinery and automated equipment. These requirements drive the need for greater amounts of data collected and stored through vision," says LaSelle. "FDA requires basic tracking of machine operation to ensure accurate completion of experiments and delivery of samples, specimens and drugs."

21 CFR Part 211 mandates aseptic equipment and operations when manufacturing pharmaceuticals. Robot manufacturers meet cleanliness requirements through design of machines able to withstand harsh wash down procedures.

"Cleanroom robots are paramount in laboratory, life science and pharmaceutical applications. Typical industrial robots do not offer the level of cleanliness needed for these environments," says Arceneaux. To that end, robot makers increasingly offer end-users with vaporous hydrogen peroxide-proof machines that stand up to harsh sterilization protocols.

Robotic RX
While robots are capable of dispensing medication, even at the retail level, relatively few systems have been deployed as of yet.

"Robotic pharmacies have been on the market for over five years within large onsite hospitals. As computing power required to run the systems fall in costs, they have been implemented in a greater percentage of dispensaries," LaSelle says. "Adept sees growth in the area of mail order pharmacies, where high-volume dispensing robots ensure accuracy, traceability and high levels of throughput per square foot of floor space."

Systematix's Joe Fox agrees. "Some large companies automate the dispensing of medications. Statistics show a relatively significant level of error in the corner pharmacy when manually done." A pharmacist filling several prescriptions simultaneously and applying address labels is prone to error. "Robots are a cost-effective way to be more consistent and reduce errors," says Fox.

Do not expect to see robots fully supplanting human pharmacists in the near future, advises Henry Loos. "Conceivably robots can fill stocks in an automated dispenser, but direct oversight of a human being is not likely to go away anytime soon. Robots eliminate human error but regulations require accountability that cannot be assigned to a machine."

Doctor's Orders
Robot makers, integrators and end-users have several opportunities to learn more about the potential of flexible automation in biomedical, life sciences and pharmaceutical applications. The Robotic Industries Association (RIA, Ann Arbor, Michigan) will host the Pharmaceutical and Life Sciences Robotics webinar on Thursday, October 11, 12:00 PM through 1:00 PM EDT. Sponsored by ABB Inc. (Auburn Hills, Michigan) and Omron Scientific Technologies (Fremont, California), the webinar examines the role of robotics in these applications, from research and development to dispensing and packaging.

Robotic wares for life sciences, biomedical and pharmaceutical work cells are slated to be a component of Automate 2013 in Chicago's McCormick Place, January 21-24.

"Adept will be showcasing its line of SCARA (selective compliance assembly robot arm) and articulated robots with form factors and performance characteristics highly appropriate for the laboratory, pharmaceutical, and life-science markets," says LaSelle. Adept will introduce a new mobile robotic platform to further automate logistics in hospitals, laboratories and clinics. "The use of mobile robots to automate mundane transport tasks should be of great interest," LaSelle adds.

"Stäubli will introduce a new high-speed robot for use in pharmaceutical packaging applications," says Arceneaux.

Systematix will attend Automate to "Check out the latest manufacturing flexibility in devices and packaging, as well as exchanging technical ideas," Fox says.

Editor's Note: It is with much sadness that we acknowledge the recent sudden passing of Joseph Fox of Systematix Inc. The condolences of RIA and the entire robotic industry community go out to Joe's family, friends and colleagues. We are thankful for his contributions which have made possible the advancement of robotic and factory automation systems worldwide.