Food Robotics
POSTED 03/19/2007
 | By: Bennett Brumson, Contributing Editor
Deploying robotics in many industries is so routine, that it is taken as a given. The presence of robotics in other industries, such as in the food market, is relatively low. The potential for robotics in the food and beverage industry is immense, for both ''traditional'' applications such as picking, packing and palletizing, as well as for cutting-edge applications such as meat cutting and beverage dispensing.
A lot of food manufactures are limited because they do not think about robotics. If food manufacturers use standard robotic systems for the transferring and cutting of their product, they will see more flexibility,'' says Sylvie Algarra, Product Marketing Manager at Stäubli Robotics, Duncan, South Carolina.
P3
Robotics in the food and beverage industry are generally divided into three main categories, picking, packing and palletizing. Picking is usually the first of these processes, followed by the packing, then palletizing. Michael Crane, Consumer Goods Segment Manager at QComp Technologies, Inc., Greenville, Wisconsin, defines robotic picking to be ''high-speed individual pick and loading trays. Examples are high-speed robots picking chocolates and loading them into a wrapping machine.''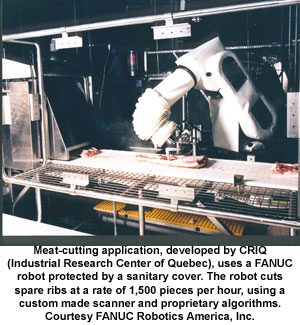 Because picking operations tend to be early in the food manufacturing process, it is important that they be done correctly. Richard Tallian, Consumer Industry Segment Manager, Robotic Products Group at ABB, Inc., Auburn Hills, Michigan, speaks of robotic food and beverage picking. ''Food robotics have more challenges at the beginning of the production line than at the end, because picking deals with food products that are irregular in shape. When going down the production line, product is more consistent in shape.''
Tallian adds that product orientation is something that integrators have to keep in mind with robotic food picking applications. ''Generally, product is randomly oriented so some may be touching or overlapping,'' Tallian says. ''Operators have to determine whether they are seeing bad product or overlapping product. Vision has a lot to deal with in picking applications.'' Tallian also says vision systems determine orientation of the product for correct placement.
Pack 'Em
Robotic packing of food is segmented in to primary and secondary packaging. Primary packaging is the placing of foods into the first wrapper or layer of packaging. Secondary packaging has the robot inserting the primary wrapped food product into the next layer of packaging, such as a box, case, carton or tray.
Laxmi P. Musunur, Packaging Segment Manager at FANUC Robotics America, Inc. Rochester Hills, Michigan, speaks of robotic food packaging applications. ''Robotics have the most penetration in the packaging side of the food industry. Primary packaging is product that has been wrapped in one form, while secondary packaging has primary packaged foods put into trays or boxes,'' says Musunur. He continues by saying that a lot of packaging is done by hard automation, but the role of robotics is on the rise. ''FANUC has installed fewer robots in the packaging of raw foods, but that is an area that we see significant opportunities.''
Sylvie Algarra of Stäubli says that robotic food handling often has several applications being undertaken on the same production line, including packaging. ''Food is being processed, with other applications, such as slicing, positioning, and dish-making. For example, people are buying outdoor meals like cakes, salads and sandwiches. The food industry has to slice these and package them into individual portions.'' Algarra asserts that a major difference between primary and secondary packing is the need for speed in the former. ''In primary packaging, the production rate is important as it is five times faster than in secondary packaging.''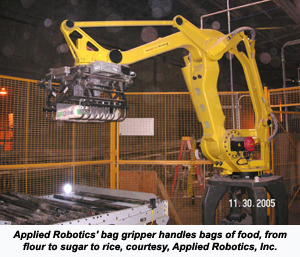 The variety of food packaging gives robotics an advantage over hard automation. Packaging variety was addressed by Clay Cooper, Engineering Manager at Applied Robotics, Inc., Glenville, New York. ''Consumer food packaging has gone through many transformations, from cartons, to stand-up pouches, to foil. Unless a new hard automation system is developed for each new type of packaging, food manufacturers have to resort back to manual systems or use robots,'' Cooper says. ''Robots have the inherent flexibility to handle a variety of packaging.'' Flexibility is the main reason that robots are going to take over the task of packaging food from hard automation, says Cooper.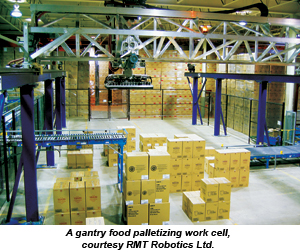 Likewise, Derek Rickard, Distribution Systems Manager at RMT Robotics Ltd., Grimsby, Ontario, Canada, says that the ever-changing varieties of packaging styles and materials poses a challenge for robotic food packing applications. ''The packaging itself has a great deal to do with the packing process because package design comes in such a variety. That is great for retailers, but for automation companies, it means dealing with a lot of variation, such as boxes, trays and shrink wrap.'' RMT's picking applications are suited to deal with such a variety of packaging.
John Holmes, Key Account Manager at PIAB Vacuum Products, Hingham, Massachusetts, is also thinking about the wide variety of food packaging. ''Robotics is seeing growth in packaging applications because multiple products are coming down a line, which requires flexibility,'' Holmes says. ''Traditional food packaging lines used to handle one type of packaging, now they have to handle up to five and their production runs are much shorter.''
Stack 'Em
Palletizing has robots putting the cases or cartons that contain packaged foods onto a shipping pallet. While palletizing is usually relatively straightforward, this application becomes more complex when food manufacturers need to ship mixed load pallets. Joseph Reams, Technical Sales Manager at Schmalz, Inc., Raleigh, North Carolina, explains how mixed product pallets are put together robotically. ''Schmalz takes several products and creates mixed SKUs to go from a distribution warehouse to the individual store. We put a layer of one item on a pallet, then another layer on top of that with a different product.'' Schmalz provides grippers for palletizing.
Because some foods require low temperatures to prevent spoilage, creating mixed pallets often needs to be done within a cold room. Functioning in low temperatures presents greater demands on equipment, particularly grippers. ''When mixing SKUs, grippers need to handle that variety of items. Foam pads can handle a wider range of products,'' says Joseph Reams. ''Temperature becomes an issue with foam rubber pad on grippers. When foam pads are brought into a freezing environment, they tend to freeze when exposed to moisture. The foam becomes unresponsive,'' Reams says. When foam padded grippers are not appropriate, integrators turn to using suction cups.
Suction cups are also on the mind of John Holmes of PIAB. Holmes says that vacuum-driven silicone suction cups pose no threat of contaminating food products. ''Air-driven vacuum pumps do not require oil and do not generate heat, so are very safe,'' Holmes says. Silicone suction cups must be food grade, Holmes adds.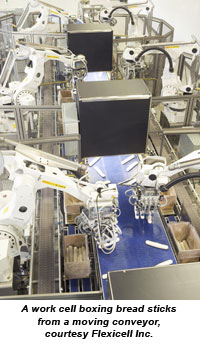 Palletizing applications in the food and beverage sector make heavy use of vision, particularly when building mixed load pallets. Hans Schouten, Vice President of Marketing and Sales at Flexicell Inc., Ashland, Virginia, delineates the multiple roles of vision in food palletizing applications. ''Vision is used for product recognition, finding orientation, and for inspection. For example, as frozen bread rolls come out of a freezer, some of their dimensions might not meet specifications,'' Schouten says. ''Vision systems help pick up the product, but end-users can also use vision as a secondary quality control inspection.''
Burgers, Beers and Robots
Food and beverage robotics perform tasks other than picking, packing and palletizing. Robotics are increasingly used for applications as diverse as butchering of meat and dispensing beverages. Robotic meat cutting is still a rare application in North America, but is more common in Europe. KUKA Robotics Corp., Clinton Township, Michigan, is one company that has implemented meat cutting work cells in Europe. William A. Willard, National Accounts Manager for Food and Beverage applications at KUKA comments on the function of robotics in meat processing lines. ''KUKA is working with companies that specialize in food processing in Europe who have applied our robots.'' Willard explains that after an animal has been processed, robots do the prime cutting. He says that robotic meat cutting is performed in a similar way that a butcher does except that a hog, for instance, is oriented vertically rather than horizontally.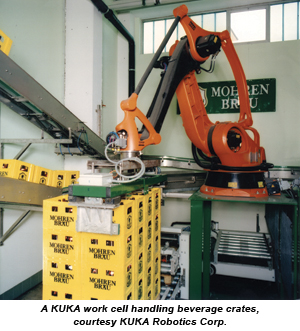 Robotic meat cutting, like other food and beverage applications, utilizes vision to accomplish its chore. KUKA's systems employs infrared scanning of pigs and cows prior to robotic butchering. Again, KUKA's William Willard: ''KUKA does infrared scanning of the body to make a three-dimensional image of it. Internal algorithms determine where the cut needs to be made,'' Willard says. ''The robot's software is interpolating exactly the carcass's precise position and where the robot's arm has to be to take a certain action.''
Laxmi Musunur of FANUC also says robotics have a role in cutting meat. ''A large piece of meat is on a moving conveyor. A vision system using a laser scanner determines the meat's topography and cuts a perfect slice out of it,'' Musunur says.
''With the availability of integrated vision (robot vision built-in to the robot controller) it's now very easy to incorporate vision into a wide range of applications,'' added Musunur. FANUC Robotics' has an integrated vision system that can be applied to virtually any picking, packing or palletizing application.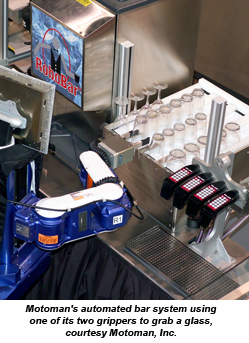 On the beverage side of food robots, Motoman Inc., West Carrollton, Ohio, offers several unique RoboBar service robot systems for dispensing beverages. RoboBar is available in high-production, entertainment and a non-alcohol versions, each designed to fill a particular market niche. Ron Potter, Motoman's Senior Director of Emerging Markets, describes each of them. ''Motoman's RoboBar HP (high production) model is meant for high-volume service bars in places like casinos, cruise ships or airports. It can mix hundreds of recipes of drinks through dispensing guns that pump the liquor and mixes, and can also add ice, if desired.'' Potter gives an example of a mixed drink order. ''If a customer wanted a Long Island iced tea, a server would place the order through a touch screen. RoboBar HP would mix the six ingredients, perfectly portioned, in
about twenty seconds.''
The incentive for service bars and casinos to invest in RoboBar HP stems from the fact it can work around the clock and do the equivalent work of four bartenders. Another version of RoboBar, NA or non-alcohol model, dispenses hot drinks such as coffee, espresso, cappuccino, and lattes. Furthermore, RoboBar NA serves up sodas, fruit juices and other non-alcoholic beverages. Motoman has sold a RoboBar NA to a company in Dubai, where it is being installed in a futuristic office building. Finally, the RoboBar E (entertainment model), pours cocktails directly from liquor bottles and one is in the process of being set up in Harrods Department Store in London, according to Potter. ''RoboBar E generally uses one arm to pick up a glass and add ice while the other arm pours or dispenses,'' says Potter.
A Motoman dual-arm robot is at the heart of all three RoboBar models. The robot is one of Motoman's standard robots that is also used for machine loading applications. Potter says, ''Automotive manufacturers are currently using about 1,000 of these robots in Japan and the US.'' He went on to describe RoboBar's gripper: ''The system uses a standard Schunk servo gripper, which is ideal for handling a variety of bottle and glass sizes and shapes.'' Both robot arms are equipped grippers to manipulate bottles and glasses. Automatic beer bottle decapping is also completed by the robot.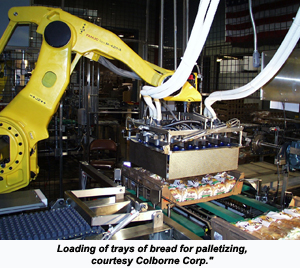 To successfully implement a solution for food-related work cells, integrators and end-users need to keep in mind that the robot is not dealing with just another manufactured product. Rick Hoskins, Vice President of Sales and Marketing at Colborne Corp., Lake Forest, Illinois sums this up. ''Integrators must understand how food products change over time and react to certain movements. You are not dealing with rigid products, you are dealing with living organisms that change rapidly and are very fragile.''
Editor's Note:
For more information, you may contact any of the experts listed in this article or visit Robotics Online, Tips & Tech Papers.
Richard Tallian, Consumer Industry Segment Manager, Robotic Products Group, ABB, Inc., 720-889-4003, [email protected]
Clay Cooper, Engineering Manager, Applied Robotics, Inc., 518-384-1000, [email protected]
Laxmi P. Musunur, Packaging Segment Manager, FANUC Robotics America, Inc., 248-377-7000, [email protected]
Hans Schouten, Vice President of Marketing and Sales, Flexicell Inc. 804-550-7300, [email protected]
Rick Hoskins, Vice President of Sales and Marketing, Colborne Corp., 847-371-0101, [email protected]
William M. Willard, National Accounts Manager for Food and Beverage, KUKA Robotics Corp., 404-475-3890, [email protected]
Ron Potter, Senior Director of Emerging Markets, Motoman, Inc., 937-847-6200,
[email protected]
John Holmes, Key Accounts Manager, PIAB Vacuum Products, 781-337-7309, [email protected]
Michael Crane, Consumer Goods Segment Manager, QComp Technologies, Inc., 262-784-9034, [email protected]
Derek Rickard, Distribution Systems Manager, RMT Robotics Ltd. 905-643-9700, [email protected]
Joseph Reams, Technical Sales Manager, Schmalz, Inc., 919-713-088, [email protected]
Sylvie Algarra, Product Marketing Manager, Stäubli Robotics, 33-(0)4-50-65-67-57, [email protected]