FDA 21 CFR Part 11 Compliance For Life Science and Medical Device Manufacturers
POSTED 06/07/2021
 | By: Sean Balogh, Marketing Strategist
To compete, manufacturers in regulated industries need to be agile and innovate at a high velocity. Epicor® ERP is a leading manufacturing platform for life science manufacturers as it offers the product traceability, system controls, and more needed to respond to your growing business while allowing you to meet regulatory challenges. The availability of critical business systems in the cloud improves your ability to compete. Cloud enables both business agility and the increased speed at which technology is delivered to better meet business needs for innovation. Additionally, the Epicor ERP Cloud Validation Bundle for Life Sciences offers a cloud solution designed to reduce the risk of compliance with support for the software validation needs of FDA-regulated businesses.
Epicor ERP Cloud Validation Bundle Benefits
As a Life Sciences Manufacturer, take advantage of the benefits of cloud with reduced risk of compliance:
Stay current in cloud with an annual upgrade cadence for extended validation testing and documentation.
Ensure your business is ready for every upgrade by leveraging customer-proven best practices that minimize disruption.
Meet demands for high growth with flexible cloud solutions, easily scalable and adaptive to current and future business needs.
Drive strategic business outcomes with an Epicor ERP Cloud system to better align with your organizational goals.
FDA 21 CFR Part 11 Compliance Requires Validation of Software
Companies must validate that the software and systems used to create and maintain electronic records and signatures can ensure the integrity of the electronic results and information. This is done through software validation. The guidance offered by the FDA for software validation is in terms of installation qualification (IQ), operational qualification (OQ), and performance qualification (PQ). The Epicor ERP Cloud Validation Bundle for Life Sciences supports IQ documentation on your Epicor cloud solution to supplement IQ documentation for internal systems within your validation plan.
Validation Documentation Available with the Bundle
The Epicor ERP Cloud Validation Bundle for Life Sciences supports IQ documentation on your Epicor cloud solution to supplement IQ documentation for internal systems within your validation plan.
Note: You are responsible for IQ validation documentation and testing of any installed software and devices at their location. Also, as you are responsible for your validation state, Epicor makes our documentation available for review. The following reports are available:
Epicor ERP IQ Software Validation Plan (VP): VP-01
Epicor ERP IQ Software User Requirements Specification (URS): URS-02
Epicor ERP IQ Software Risk Management Plan (RMP): RMP-03
Risk Assessment / Failure Modes and Effects Analysis (FMEA): FMEA-04
Epicor ERP IQ Software Risk Management Report (RMR): RMR-05
Epicor ERP IQ Software Functional Requirements (FR): FR-06
Epicor ERP Installation Qualification (IQ) Software Validation: IQ-07
Epicor ERP IQ Software Validation Summary Report (VSR): VSR-08
Epicor Managed Hosting SOC 1 Type II Report
Epicor Cloud ERP SOC 2 Type II Report
Epicor SOC 2 Bridge Letter
Cloud Elements of the Bundle
The solution is a bundled offering that comprises the following cloud elements:
Epicor ERP Public Cloud U.S. Government Option
Epicor Public Cloud Validation Environment with Public Cloud Premium for your dedicated validation testing
IQ documentation and audit inquiry support in the event of customer or FDA audit
Extended validation cloud cadence of one year to provide additional time for validation documentation and testing

Figure 1: Epicor ERP Cloud Validation Bundle for Life Sciences. Note the solution is available in Azure Government Cloud and that additional environments are available but must be enhanced with a corresponding Premium Pilot Extension to match your solution set.
Cloud Upgrade Cadence for the Epicor ERP Cloud Validation Bundle for Life Sciences
Supporting the needs of the life sciences business with a software upgrade cadence that delivers time for added testing is built into the solution. Users will have stages for planning, validation testing, reporting of issues that impact validation, and regression test time for their validated processes. They will also need to test their non-validation processes such as financial transactions. Below is a diagram that outlines a sample cadence for the solution. In addition to a one-year cadence for major releases, the solution will offer a quarterly update that is made available in the pilot environment the month prior to making it available in the live environment.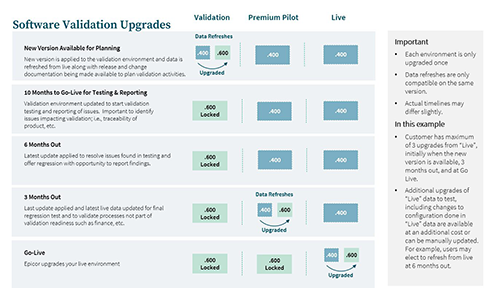 Get Started With Epicor ERP Cloud Validation Bundle
Business leaders balance the pace of business innovation, fluctuating demand, and regulatory compliance requirements when deploying new technology. Reducing the risk of change in these environments provides greater business resiliency with the added benefit that the cloud delivers, including the ability to stay current with technology to drive greater results. Epicor uniquely understands the needs of a life sciences manufacturer with cloud-based ERP. You need the flexibility and control to run your business your way while benefiting from the cloud technologies and business models that fit.
Encompass Solutions is a business and software consulting firm that specializes in ERP systems, EDI, and Managed Services support for Manufacturers. Serving small and medium-sized businesses since 2001, Encompass modernizes operations and automates processes for hundreds of customers across the globe. Whether undertaking full-scale implementation, integration, and renovation of existing systems, Encompass provides a specialized approach to every client's needs. By identifying customer requirements and addressing them with the right solutions, we ensure our clients are equipped to match the pace of Industry.