New Catalog on Piezo-Mechanic Nanopositioning Motion Systems for OEM, Industry and Research Released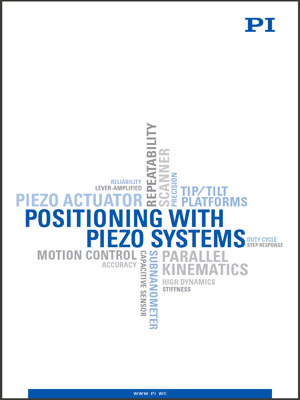 Auburn, MA – Motion and nano precision positioning systems leader PI (Physik Instrumente) released a new 250 page catalog on precision mechatronic actuators and nanopositioning systems based on piezo drive technology and frictionless flexure guiding systems. Products covered in this catalog use PI's in-house designed and manufactured Mars Rover-tested piezo ceramic actuators as their drive principle.
Markets / Standard & Custom Solutions / OEM Products
A special form of electro-ceramics, piezo actuators deliver a unique combination of precision, speed, and force in a small package. Their lack of friction, particle generation, and associated wear makes them ideal for many high tech applications including photonics, super-resolution microscopy, high-speed dispensing and switching, medical engineering, etc. Miniaturized systems are available for easy integration into new or existing industrial, research, and OEM systems. Where a standard system cannot be used, customized solutions are available as outlined in the intro-section of the catalog.
Examples of standard products highlighted in this publication range from low-cost OEM-type flexure actuators to 6-axis integrated nanopositioning systems, ultra-fast laser steering systems, and photonics alignment systems. Along with the piezo mechanic systems, digital controllers and sub-nanometer precise position sensors are part of the solutions PI offers. Many of these state-of-the-art precision motion products will be showcased at Photonics West in San Francisco later this month.
Long-Life Actuators
PI's piezo actuators were tested by NASA/JPL for the Mars mission and passed 100 billion cycles of life testing without failures.
Applications
Applications include optical microscopy, AFM, mechanical engineering, industrial manufacturing, quality assurance, scientific instrumentation, nano-dispensing, photonics packaging, astronomy, semiconductor test and manufacturing.
Request a Print Copy or Download the New Positioning with Piezo Systems catalog
http://www.pi-usa.us/pdf/index.php#PiezoSys
Watch Piezo Flexure Nanopositioning Systems Video
https://www.youtube.com/embed/BJbYzLJ7kWA?start=182&rel=0
Standard and Custom
PI has in-house engineered solutions with over 4 decades of experience working with customers to provide products that meet application demands, and can quickly modify existing product designs or provide a fully customized OEM part to fit the exact requirements of the application.
About PI
PI is a leading manufacturer of air bearing stages, piezoelectric solutions, precision motion control equipment, and hexapod parallel-kinematics for semiconductor applications, photonics, bio-nano-technology, and medical engineering. PI has been developing and manufacturing standard & custom precision products with piezoceramic and electromagnetic drives for 4 decades. The company has been ISO 9001 certified since 1994 and provides innovative, high-quality solutions for OEM and research. The PI group employs more than 1,000 people worldwide in 15 subsidiaries and R&D / engineering centers on 3 continents.