The Evolution of Camera Phones
It wasn't long ago when the average camera phone strained to deliver snapshots at two megapixels. Now, they've advanced so far that standalone digital camera sales have plummeted. Camera phones are ubiquitous, but they actually have a history of only about fifteen years – they first appeared in South Korea in 2000.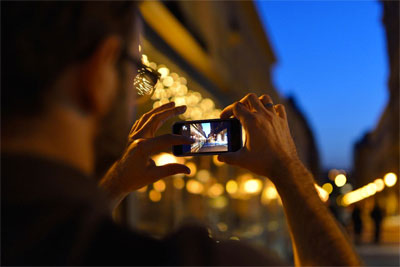 The First Camera Phones Hit Asia
The Samsung SCH-V200 was a flip phone featuring a 1.5" LCD screen and a built-in camera which offered a .35 megapixel photo resolution. On-board memory provided storage for a maximum of 20 photos. There was no easy way of transferring a photo once it was taken, and the phone had to be connected to a computer, since the camera and phone were essentially separate devices.
A close competitor, the J-SH04 by Sharp, was released in Japan by November 2000, three months after the Samsung. Its native image resolution was just .11 megapixels; however, it offered a huge advantage over the SCH-V200. You could send photos electronically.
The Craze Spreads to the U.S.
The Sanyo SCP-5300, on the Sprint network, had a clunky design and a hefty $400 price tag. Still, it introduced the American audience to mobile photography with .3 megapixel images backed by flash, balance control, a self-timer, digital zooming, and a handful of filters. The sight of genuine camera functionality in a phone set off a craze that lasted well into the 2000s.
Sprint's PM8920 reached U.S. shores in July 2004, delivering market-leading 1.3 megapixel images that could be shared wirelessly or even printed. A popular multi-shot option allowed for taking up to eight photos in rapid succession. Plus, the evolution of phone-sized camera modules let Sprint offer the PM8920 at just $150 after rebates.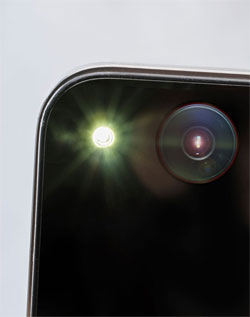 Nokia and Sony Compete
From 2004 to 2008, Nokia and Sony fought for control of the camera phone market with a series of ever more impressive releases. Nokia launched the first 2 megapixel camera phone, the N90, in 2005; Sony followed up with the Sony Ericsson K800i, the auto-focusing 3.2 megapixel offering that dominated 2006.
Samsung stormed the market in 2007 with the ultra-popular 5 megapixel N95. Backed by Carl Zeiss optics and 30 FPS video, it could have become a game-changer. Unfortunately, even though the Samsung greatly outclassed the original iPhone's 2 megapixel camera, the smartphone revolution curbed Samsung's ascent in the market.
Camera Phones Today
Until 2010, Samsung fought to keep up with Nokia style and innovations in its releases, but traditional flip phones were losing ground. Initially, the excitement of early smartphones slowed the pace of camera hardware evolution, but photography software tools started to grow more quickly. Today, camera phones like the Lumia 1020 boast robust photography capabilities and the consumer market ranges from 20 to 40 megapixels.
What's the future of camera phones? Onboard cameras are now a necessity, not a luxury, and many of them are equal to the best standalone cameras. As users demand more efficient video-taking capabilities, both software and hardware have plenty of room for growth.