Industrial Robotic Safety Risk Assessment Tips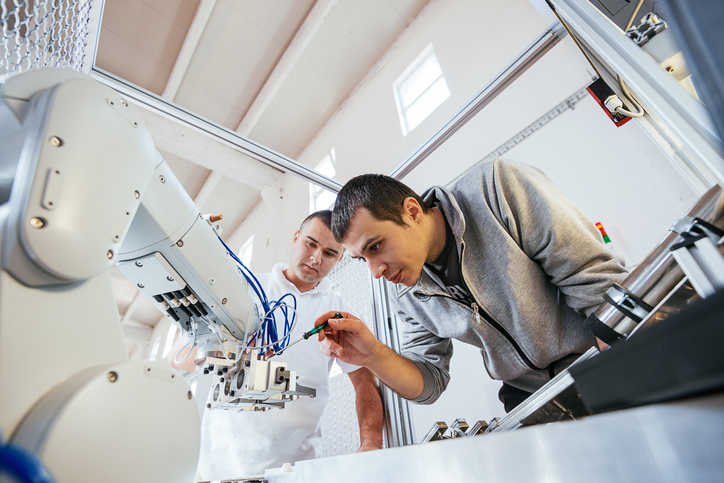 Industrial robots provide many bottom-line benefits for manufacturers, but they are also inherently dangerous and it's the responsibility of manufacturers to ensure a safe production environment for workers.
Many view safety as a chore, but industrial robotic safety can actually have many benefits, including the assurance of regulatory compliance and increased productivity on the factory floor. Assessing safety risks from industrial robots is important, but knowing where to start can be difficult.
What's Involved in an Industrial Robotic Safety Risk Assessment?
Assessing the risks of industrial robotic technology is the first step in achieving robotic safety in a factory setting. A proper risk assessment for industrial robotics typically includes two steps: a risk analysis and a risk evaluation.
A risk analysis may be the more involved process of the two and often requires three different steps: determining the limits of the robotic machinery, identifying the potential hazards involved in production, and estimating the risk of identified hazards.
While not every manufacturer will be able to follow these exact steps, they are a good guideline for a proper industrial robotic risk assessment.
Identifying Sources of Hazard in Industrial Robotics
Hazard identification in industrial robotic processes may be one of the most important steps in a safety risk assessment. Hazards can come in mechanical, electrical, thermal, noise, vibration, radiation, material or ergonomic form.
The type of hazard presented depends on your application, and is just as dependent on when industrial robots are interacted with, such as during integration, training, maintenance or routine production. The instances of interaction, along with the types of hazards, need to be assessed in relation to the types of safety protocols put in place to prevent injury or harm to workers.
Identifying sources of hazard in industrial robotics is a key step and not always a straightforward consideration. Once the hazards are identified, and the instances of robotic interaction are established, assessing safety risks becomes more simplified.
Safety in industrial robotics is paramount. Manufacturers have a responsibility to protect workers from injury or harm, and can even achieve regulatory compliance and increased productivity in the process of improving safety.