7 Signs That Your Business is Ready for Automation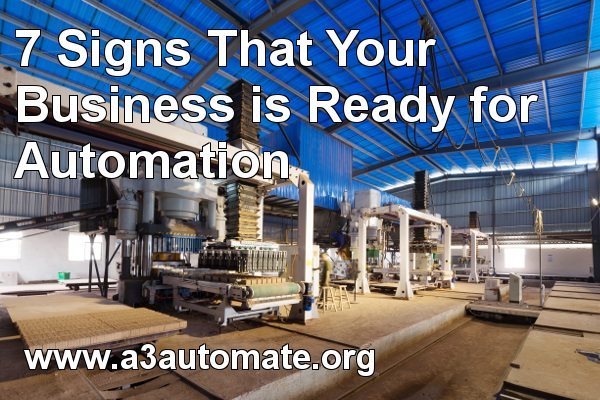 Automation isn't just a wave for the future. Manufacturers, research firms, and companies specializing in warehouse and distribution are automating systems and processes to reduce costs and boost quality. An investment in technology is an investment to compete and win new business for companies in an array of industries.
Investing in automation has to make financial sense for individual businesses, regardless of trends. Here are seven signs that could point to your company's need to automate.
Sign 1 – Nagging Production Challenges
A key piece of equipment keeps breaking down or current production methods can't keep up with customer demands. Selecting the appropriate automated system can lead to more efficient production and the ability to service large contracts.
A manufacturer of machined castings and forgings in Illinois won a major contract to manufacture automotive drive shaft components for sport utility vehicles and full size trucks. Manual production output topped out at 80 pieces per hour compared to automated output of 118 pieces per hour. The improved boost in production is described in this article "Robots Impact Production at Mennie's Machine Company, Inc."
Sign 2 – High Labor Costs
Tough environments like the wet and cold workplaces in food processing or manufacturing jobs dealing with cutting and slicing make liability and employee safety in the workplace a critical issue. Absenteeism and personnel turnover keep labor costs high because of needed training and re-hiring.
Automating can improve worker safety as noted in this article, "Yushin Servo Robot Improves Worker Safety." The Portland, Oregon company mentioned, Con-Met, achieved a high degree of worker safety which led to an increase in production.
Sign 3 – Competitors Outbidding
Companies need to compete with similar outfits stateside or from low cost labor in overseas markets. Using updated technology can be a selling point for firms to use when courting potential large contracts to compete with domestic firms. Automation can be a selling point to show customers that it's possible to provide a product or service at lower cost and higher quality than an overseas market, especially when calculating time and cost needed for shipping.
Sign 4 – Opportunities in New Markets
A company that made one product for one industry may find it necessary to expand to new markets or go out of business. Marlin Steel once made wire baskets for bagel stores but decided to automate when cheaper products from China flooded the market and threatened their existence. Watch the video Why I Automate to see the story.
Employees found they did more than just keep their jobs. One employee who was making $8 per hour gained new skills and earned a dramatic pay increase and is making an annual wage of $ 60,000.
Sign 5 – Persistent Waste
A decision to reduce wasted materials, wasted time, and wasted effort in pursuit of lean manufacturing objectives can be supported with automation. Flexible systems can save both material waste and reduce production time. A company that makes Roadster Replicas, Factory Five Racing in Wareham, Massachusetts, took 7 ½ hours to trim four sets of doors, hoods, and trunks. Read this article that describes how automated systems dropped the time to 24 minutes with greater accuracy.
Sign 6 – Ultra-Precise Assembly Needed
Assembly spaces are shrinking, especially in electronics, and creating the need for precision that surpasses human abilities. Besides electronics, miniaturization is affecting the assembly of automotive parts, household appliances, and surgical devices. Automated systems using advanced sensors are in demand and this article Robotic Assembly: Shrinking Footprint, Expanding Market gives details on how complex assemblies are taking place in smaller manufacturing spaces.
Sign 7 – Employees Need Empowered
Etalex is a commercial shelving manufacturer in Montreal, Canada that has employees collaborate with robots from Universal Robotics. People use the robots like assistants known as cobots and they'll perform tasks like pick-and-place operations unloading a press brake machine used to bend steel parts. In one instance, production costs were reduced and the employee who used to tend the machine wasn't laid off but was re-assigned elsewhere.
In this write-up, The Realm of Collaborative Robots--Empowering Us in Many Forms, employees can get involved and program the robots at Etalex. This gives ownership of the task at hand and boosts morale.
It's likely that more than one of these signs is evident at a company that needs to automate. Start with the A3 website to dig deeper and discover an array of automated solutions.