Become an Automation Expert - Resources Roundup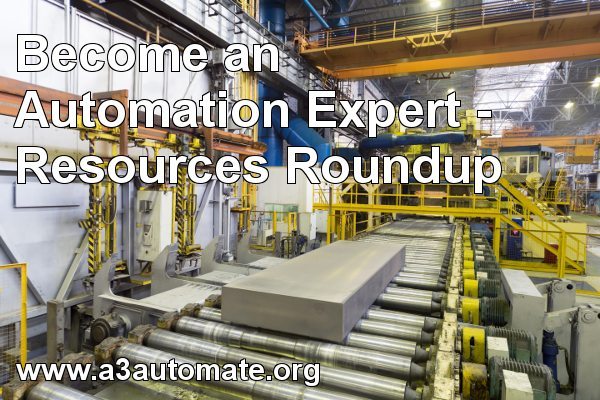 Running your business or handling the tasks for your job requires long hours, and yet you want to learn about automation to improve your processes and become competitive. Automation is dynamic and improvements to systems are in continuous development, but staying on top of trends is possible with the resources mentioned here.
This blog rounds up key websites and articles to help you school yourself in the world of automation.
Learn the Basic Systems
Familiarize yourself with the systems used in automation, a technique that allows a process to function without hands-on supervision. Placing labels on bottles at the rate of many thousands per hour, using robots to test millions of combinations of pharmaceuticals with different diseased cells per week, and unloading shipping containers with vision-guided systems are examples of automated systems.
Robotics, vision and imaging and motion control are three types of automation engineering used to power the systems. A robot may be as simple as a stand-alone component used to attach nuts and bolts or it can be constructed to mimic human characteristics. Robots can even wiggle and move freely within tight spaces like the snake arm robot described in this article.
Check the following websites for your self-education. Type your industry into the search box and read the articles that are returned as one way to gain knowledge. Bookmark these websites and visit them to stay up-to-date on trends and industry-specific research.
Association for Advancing Automation (A3) - The A3 resource page has content segmented into newsletters, webinars, integrator programs, and links to standards.
Robotics Online (Brought to you by Robotics Industries Association)
Vision Online (Brought to you by AIA - Advancing Vision + Imaging)
Motion Control Online (Brought to you by Motion Control Association)
Industries
Diverse industries are using automation to produce higher quality products at a lower per-hour cost when compared to traditional manufacturing and even low cost overseas labor. Here are just a few examples of industries using automation.
Electronics
Electronics has surpassed the auto industry for greatest use of automation in an industry. Clean systems and adaptive tools such as vision or force control allow the robot to 'feel' its way into an assembly, placing parts in a dynamic assembly process. Read "Robotics in Electronics" to get an overview on automation used in the electronics industry.
Food processing
Primary food packaging and food processing can involve anything from harping large vats of cheese curd to sectioning and packing chicken parts. Read "Robots with an Appetite for Food" to learn how systems installed in work environments that are cold, wet, and noisy are an answer to high employee absenteeism and lead to better working conditions.
Warehouse and distribution
The need to accurately select different size packaging from large distribution centers has created a need for automation in warehouse and distribution. Robots can be used to unload items from trays and place in bags or move autonomously inside shipping containers and find specific types of packages. Read "Material Handling Robots in the Mix" to learn the latest automation trends in this sector.
Hands-On Education
From free websites and articles to valuable conferences, it's possible to become an automation expert even while paying close attention to the needs of your company.