UPDATED
CVP-ADVANCED
COURSES
AVAILABLE!
Certified Vision Professional
Advanced Certification
A3 Certified Vision Professional — Advanced Program
The Certified Vision Professional - Advanced Program is the vision industry's most comprehensive training program available today. The program consists of 13 in-depth online courses taught by vision industry experts that build upon the material in the CVP-Basic curriculum.
A CVP-Advanced certification is currently the highest level of distinction for vision industry professionals worldwide. Virtual testing is available with a live, proctored exam to obtain CVP-Advanced certification. CVP-Basic certification is not required to obtain CVP-Advanced status, but it is recommended. New and refreshed courses for both the CVP-Basic and CVP-Advanced programs are now available.
A3 also offers these courses in-person at least once per year at one of our industry-leading conferences. *Pricing for in-person training varies*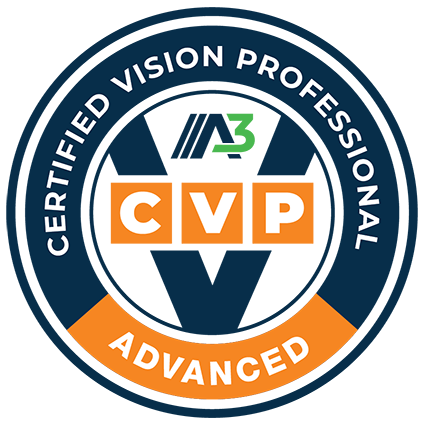 Virtual Exam
View available dates for a live, proctored exam and test your vision training knowledge
Meet Certified Vision Professionals
View a list of Certified Vision Professionals - Advanced.
Member Access
Watch CVP-Advanced Training Videos taught by industry leaders. Subscription required.
CVP-Advanced Courses
Advanced Optics for Vision
Advanced Vision Lighting
Advanced Camera & Image Sensor Technology
3D Vision System Development
Introduction to Machine Learning
Designing Linescan Vision Systems
High-Speed, Real-Time Machine Vision
Advanced Vision Guided Robotics
Non-Visible Imaging: Infrared Technology and Applications
Advanced Color Machine Vision & Applications
Metrology & 2D Calibration Techniques
Advanced Image Processing
Advanced Vision System Integration
CVP-Advanced Subscription Info
The CVP-Advanced curriculum is the vision industry's most comprehensive training program available today. The program consists of 13 in-depth courses that cover critical areas of understanding that are instrumental in a successful career as a vision professional. Attaining the CVP-Advanced certification helps you clearly demonstrate your specialized skills in a competitive global market. You'll benefit from increased confidence in your abilities from your employer, peers, and customers. The CVP-Advanced courses are now available to be taken online!
FREE FOR A3 MEMBERS – GOLD & PLATINUM LEVELS
A3 member companies at the Gold and Platinum levels will have free access to these new courses. (Learn about A3 membership tiers here.) Need help accessing your courses, email [email protected] for assistance.
(then click the blue View My Courses button)
PURCHASE A SUBSCRIPTION
For others, there are two options available for accessing the online CVP training:
INDIVIDUAL LICENSE
Individuals can subscribe to take all courses in the full advanced programs. Purchasers can access the courses anytime and start and stop as needed. Access to all courses is valid for 90 days. This purchase is based on a single user.
Cost: $895 USD for members, $1150 for non-members.
COMPANY-WIDE LICENSE
Register for a company-wide license. This subscription allows an entire team access to all advanced courses for a full year.
Cost: $2,495 USD for members. $2,995 for non members.
Virtual testing available for an additional fee.