Education / Training / Research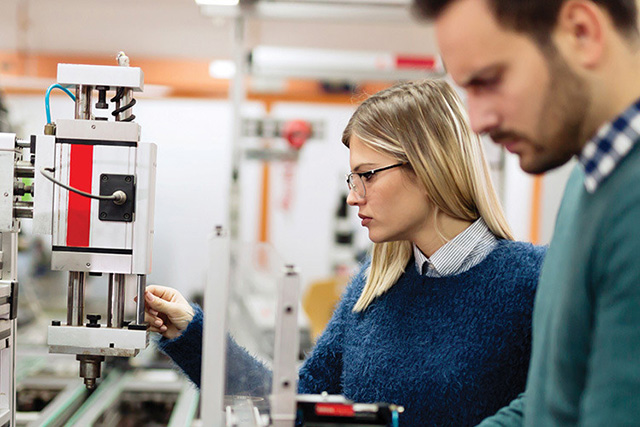 Use our member companies' education, training, and research services to get your team all of the valuable information they need to avoid costly errors and meet deadlines during your automation project.
Education
Our member companies offer education services for teams who wish to build their familiarity, comfortability, and capabilities in a number of manufacturing subjects, from product design all the way to distribution.
Training
Our member companies' product specific training can be delivered in a variety of ways. The options include product training manuals, online or mobile device training courses, group classroom training either at the trainer's facility or at your facility, or a custom training developed by you that best fits your needs.
Our member companies' technical training programs can be designed to suit your specific interests and needs as well. Each training program will be unique in its approach and will enable you and your team to learn specific motion control techniques from the experts.
Research
Our member companies' research services include product design and engineering research services.
Product design services include the steps prior to and during design, where engineers collaborate to define the look and feel, functionality, and practical manufacturability of your potential products. During this time, all necessary parts, materials, and supplies to be used are carefully considered.
During engineer research, engineers identify potential variables and plan out each phase in alignment with the product's goals and strategies. This requires comprehensive documentation of their findings, as well as rapid prototype creation and testing for feasibility. Second, they work to mitigate any potential risks through stress tests and risk assessments, using that information to help optimize potential products and help optimize your budgets and resource allocation. Next, blueprints are created, and your product designs are refined in order to improve performance, reliability, and cost. In the final stage, designs are validated through exhaustive testing and identification of gaps between prototype and prototype.
Each company listed below is a certified A3 member and has a unique area of specialty and manufacturing expertise. Browse below to find the right education, training, and research company who can help you and your team accomplish your unique manufacturing goals.
SEARCH SERVICES
FILTER RESULTS
BY TECHNOLOGY
Viewing Services: Education / Training / Research
Show Per Page:
DISPLAY: