I4 Solutions, LLC Service
Certified System Integration Services
Service Areas: Alabama, Alaska, Arizona, Arkansas, California, Colorado, Connecticut, Delaware, Florida, Georgia, Hawaii, Idaho, Illinois, Indiana, Iowa, Kansas, Kentucky, Louisiana, Maine, Maryland, Massachusetts, Michigan, Minnesota, Mississippi, Missouri, Montana, Nebraska, Nevada, New Hampshire, New Jersey, New Mexico, New York, North Carolina, North Dakota, Ohio, Oklahoma, Oregon, Pennsylvania, Rhode Island, South Carolina, South Dakota, Tennessee, Texas, Vermont, Virginia, Washington, West Virginia, Wisconsin, Wyoming, Canada, Mexico, and International
i4 Solutions, an A3 Certified System Integrator, delivers reliable fully-automated inspection solutions. Every project starts with a free technical evaluation. Services include design, software development, assembly, test, installation, training and support.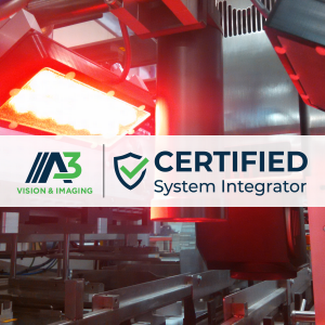 Turn Up the Vision®
i4 Solutions follows a methodical process in delivering machine vision integration services. This process has been fine-tuned over twenty years to assure customer satisfaction.
Project Evaluation
Each project starts with a careful evaluation of technical feasibility. This requires samples of the parts to be imaged, a review of the installation site, and in-depth discussion of project goals. If i4 Solutions makes an offer of sale, the proposal will document project requirements, exact deliverables, and associated costs.
Design
i4 Solutions' staff meticulously selects and integrates the imaging, processing, lighting and mounting components that will perform best for each installation. Decades of experience are leveraged to choose the commercial products that best achieve project requirements.
Develop
i4 Solutions offers several standard software applications. Each application component is highly configurable, allowing both customers and our staff to adapt it to requirements that change over time. i4 Solutions also offers custom software applications designed precisely for a customer's unique needs.
Assemble
i4 Solutions will pre-assemble each system for testing and expedited installation. This typically includes assembly of small electrical panels, environmental enclosures, and related brackets.
Test
Each system is fully tested prior to delivery. Customers are invited to participate in the factory acceptance test.
Installation, Training & Support
i4 Solutions' staff provides expert onsite startup and training. Both on-site and off-site technical support is available on a fee basis. i4 Solutions also offers service contracts that can include periodic preventive maintenance, training classes, and minor software updates. Additionally, i4 Solutions maintains a large inventory of component parts to enable full life cycle support.