Clamps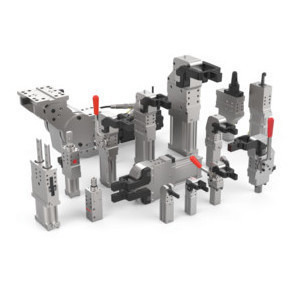 End effectors, or end-of-arm tooling (EOAT) clamps are comprised of two metal pieces that tighten, enabling your robots to safely lift and move your desired item.
Some clamps also feature a safety system, which helps prevent items from being dropped prematurely and ensures employee safety.
Clamps can be a massive boost to your automation project because they speed up production and reduce the amount of fallen or broken items you encounter on your production floor.
The clamps listed below are made by our member companies using the most durable materials available. They come in a wide variety of sizes and styles making them useful for many applications. See their full specs to decide which clamps are right for you.
SEARCH PRODUCTS
FILTER RESULTS
BY TECHNOLOGY
Viewing Products: Clamps
Show Per Page:
DISPLAY: