Wes-Tech Automation Solutions Product
Gantry - 4 Axis
Model: TCL 210/4, TCL 220/4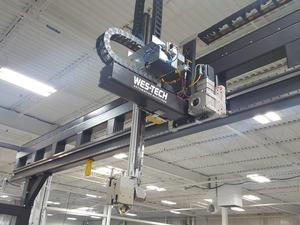 The Wes-Tech TCL Gantry System offers a world class blend of modular parts handling, specialized gripper design, and standardized controls.
The standard machine tool interface simplifies integration of the loader to most lathes, machining centers, and grinders. In combination with other Wes-Tech products, such as Tech-Trak®, the TCL can achieve completely integrated machine tool solutions.
Wes-Tech built Gantries are robust, with a high quality reputaion since 1993.
Proven performance, designed for machine tool loading, material handling and pick-n-place applications.
Other Products from Wes-Tech Automation Solutions