Mitsubishi Electric Automation, Inc. Includes HDMI Port Option on GT27 Series of Human Machine Interfaces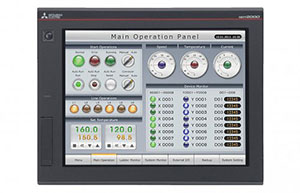 Mitsubishi Electric Automation, Inc. announces that its GT27 Series of human-machine interfaces (HMI) now includes the option for an HDMI port, allowing users to skip the time and cost of setting up a PC to accomplish the same feat. Production managers and maintenance personnel can benefit from seeing what the machine operator sees on a large public screen, allowing them to respond faster to required actions.
Mitsubishi Electric´s GT27 Series of HMIs includes a robust selection of functions and features such as gesture operations, remote connectivity, human sensors, and two USB ports. The addition of an HDMI port allows easy addition of visualization and communication equipment to a factory floor when multiple people need to see information as it is it displayed on the HMI.
»An HDMI port is not a common feature among HMIs in the marketplace,» said Lee Cheung, product marketing engineer at Mitsubishi Electric Automation, Inc. »Most HMIs require a PC in order to project the HMI contents on a larger screen. But with the GT27 Series, all you need is a cable.»
Any manufacturing or processing facility can benefit from displaying machine data in a space where it can be seen by additional employees. Those in the automotive industry may find it particularly useful by incorporating it into their Andon system to visualize what is happening on their manufacturing floor.
About Mitsubishi Electric Automation, Inc.
Headquartered in Vernon Hills, Ill., Mitsubishi Electric Automation, Inc., offers a wide range of factory automation products, solutions, training and support services for the industrial and commercial sectors. A U.S. affiliate company of Mitsubishi Electric Corporation, Mitsubishi Electric Automation represents more than 75 years' experience in the automation industry. A broad product portfolio includes programmable automation controllers (PAC), programmable logic controllers (PLC), human machine interfaces (HMI), variable frequency drives (VFD), servo amplifiers and motors, control software, computerized numerical controllers (CNC), motion controllers, robots and low-voltage power distribution products. The company takes its solutions on the road with the 53-foot long Solutions in Motion mobile showroom that appears at tradeshows, training seminars and other events across North America.
In addition to factory automation, Mitsubishi Electric US group companies' principal businesses include semiconductor devices, automotive electrical components, elevators and escalators, cooling and heating products, electric utility products, and large-scale video displays for stadiums and arenas. Mitsubishi Electric US group companies have roughly 31 locations throughout North America with approximately 4,000 employees.