Mitsubishi Electric Automation to Offer 24/7 Technical Support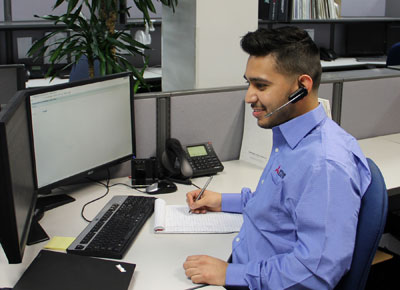 VERNON HILLS, Ill. – Mitsubishi Electric Automation, Inc. announced that the company has extended its service hours to provide customers with 24/7 technical support. These extended hours will be available through U.S.-based phone support for CNC machines and robots. The extended service hours are intended for emergencies that could result in costly downtime.
"Providing technical support beyond our normal operating hours allows us to respond quickly to unexpected breakdowns that occur during second or third shift operations, or even on weekends or holidays," said Bryan Henderson, national service manager, Mitsubishi Electric Automation, Inc. "Our customers are under increasing competitive pressures to run their operations 24/7. We want to accommodate them during after-hours emergency situations, thus limiting the delays that can result from these unexpected breakdowns."
Henderson said that these extended technical support hours could be especially useful to CNC machine tool customers in the automotive, aerospace, agriculture, energy, medical and heavy equipment markets. The availability of 24/7 technical support could also be helpful in markets that use robots, including packaging, food and beverage, automotive, semiconductor, healthcare and education.
About Mitsubishi Electric Automation, Inc.
Headquartered in Vernon Hills, Ill., Mitsubishi Electric Automation, Inc., offers a wide range of factory automation products, solutions, training and support services for the industrial and commercial sectors. A U.S. affiliate company of Mitsubishi Electric Corporation, Mitsubishi Electric Automation represents more than 75 years' experience in the automation industry. A broad product portfolio includes programmable automation controllers (PAC), programmable logic controllers (PLC), human machine interfaces (HMI), variable frequency drives (VFD), servo amplifiers and motors, control software, computerized numerical controllers (CNC), motion controllers, robots and low-voltage power distribution products. The company takes its solutions on the road with the 53-foot long Solutions in Motion mobile showroom that appears at tradeshows, training seminars and other events across North America. Additional information about Mitsubishi Electric Automation is available at us.MitsubishiElectric.com/fa/en.
In addition to factory automation, Mitsubishi Electric US group companies' principal businesses include semiconductor devices, automotive electrical components, elevators and escalators, heating and cooling products, solar modules, electric utility products, and large-scale video displays for stadiums and arenas. Mitsubishi Electric US group companies have roughly 31 locations throughout North America with approximately 4,000 employees.
Company Contact:
Pam Summers, Sr. Content Management Specialist
Tel: 847-478-2415