Getting Ready for Your New 24/7 Employee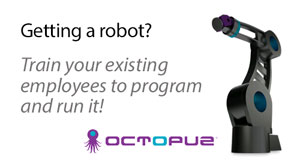 Years ago, small to mid-size companies didn't even entertain the idea of adding a robot to their manufacturing processes. Not only was the cost prohibitive but the learning curve was steep and the overall concept proved to be too intimidating for most.
How times have changed!
In today's increasingly competitive market, more and more businesses are realizing the value that a robot can offer without putting undue stress on the bottom line. Not only are today's robots smaller, more versatile and easier to program, but costs have come down to the point where even "mom and pop" companies are looking at the next generation of technology.
"Though prices range depending on the application, the cost of a robot can be less than a traditional piece of manufacturing equipment," said Warren Reynolds, General Manager for I-Cubed, an Ontario company specializing in robotic solutions. "Things start to add up with the addition of secondary process tools, such as those required in machining, grinding or water jet cutting. Then there are expenses related to installation, labour, training and software. But many of these are one-time costs that easily pay for themselves."
Contrary to what many think, hiring new staff isn't always necessary, Reynolds said. For simple manufacturing jobs, a specialized course can have existing employees trained and running the robot in as few as five days. For operators already proficient in software like Mastercam, the training period may be even shorter.
"If you can program a CNC machine, you can program a robot," Reynolds said.
That's proven each day at I-Cubed where a range of employees, including mechanics, carpenters and an accountant, all perform programming duties.
After the initial outlay, the cost savings associated with a robot's versatility, endurance and speed are soon realized and many companies see a quick return on investment. A robot can work precisely and consistently 24 hours a day, seven days a week, providing a level of performance reliability that simply can't be duplicated by human labor. Then there's the reduction in wasted time and resources, lower labor costs and greater yield in terms of both quality and volume.
An additional purchase that is paying off for many companies using robotics automation is offline programming software, Reynolds explained. The ability to program robots offline can lead to a huge increase in productivity, and software like OCTOPUZ by In-House Solutions is something that Reynolds recommends to his customers.
"I have two guys sitting here programming robots now for jobs later this afternoon while the machine is cutting right now," he said. "A of lot of robot suppliers that don't believe in the offline programming see the benefit of it when they look at our shop."
Involving a robot integrator in the installation process will make the transition go much more smoothly. While employees are going through a training period, an integrator will take care of the initial setup, have the applications ready to run and pave the way into the world of automation.
OCTOPUZ is the intelligent offline robotic software ideal for any path-sensitive application by In-House Solutions.