The First Complete Human Robot Collaborative Production Line With T-Skin in Qisda
In order to address the safety concerns of the industrial robots in Qisda's human-robot collaboration manufacturing line, Touché Solutions provided a complete HRC safety solution – T-Skin. T-Skin can reduce the risk of collisions between humans and robots by its "contact-stop" feature.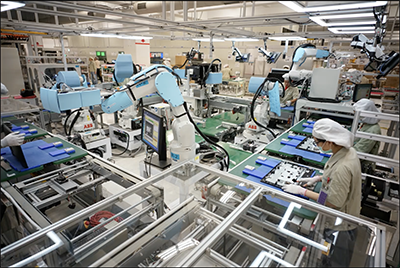 Human-Robot Collaboration is the best solution for Qisda Corp.
The labor shortage is among one of the most common challenges in Taiwan's manufacturing industry. Qisda would like to figure out a new production line design and scenario to overcome this issue. Qisda, an electronic ODM/ OEM leader with services spanning multiple business sectors, has been maintaining its leading position in the global LCD monitor and projector markets. To fulfill the rapidly-changing market demands, Qisda intended to build an effective and highly automated production line. This new automated production line would solve their labor shortage issue as well as the yield rate issue caused by the high labor turnover rate.
Qisda's conclusion was to build a human-robot collaborative production line with traditional industrial robots. Why not choosing an unmanned factory? Although the demand for labor would be lower and human errors could be fully mitigated in an unmanned factory, some difficulties remain unaddressed. First, robots cannot perform all tasks in the production line. From experience, only 10% of the tasks can be fully automated in an electronic product assembly line. Second, the changeover time is very long in an unmanned production line and will reduce capacity. These two factors contributed to Qisda's decision for a human-robot collaborative production line. In Qisda's HRC line, robots are responsible for heavy, repetitive and high-precision tasks while humans attend to tasks requiring flexibility and judgment. For example, using robots to lock screws or perform automated optical inspection would enhance quality, speed, and yield rate, whereas the internal wiring and appearance inspection and cleaning are better done by humans. In addition, with the HRC application adopted, production line layout would allow for higher flexibility. The long production line could be divided into several cell stations connected by robots to increase the flexibility of production lines and reduce the changeover time. In Qisda's new HRC production line, the capacity per square meter increased by 52%; production efficiency increased by more than 80%.
T-Skin is the key to HRC
A main concern of Human-Robot collaboration in an HRC production line is the risk of collisions between humans and robots in the same working space. Qisda selected ABB's high-quality robots for its heavy-payload, high-precision and long-reach. However, ABB robots, not equipped with anti-collision related mechanisms, have posed a safety challenge for Qisda and brought them to Touché Solution's safety product: T-Skin. T Skin, certified by CE and complying with ISO/TS 15066 collision measurements, is a customized safety product for robots. It can be used in all kinds of robots and provide a contact-stop function to protect humans under the HRC scenario.
To guarantee the safety in the factory, Qisda adopted three safety mechanisms. First, Qisda defined a collaborative working space, clearly set apart robots' working spaces from humans'. Second, they adopted safety optical sensors, using safety light curtains to detect a person's presence in robots' working area. When a person walks into a robot's area, the robot would slow down. Third, Touché Solution's safety T-Skin has been installed. When collisions between humans and robots occur, T-Skin would detect the contact and immediately send out alerts and bring the robot to a halt within a very short time. It not only protects humans from accidents but also prevents robots from losing position accuracy caused by collisions and, in turn, provides safety, reliability, and quality.
Qisda's case of human-robot collaboration is exemplary in its emphasis on efficiency but not at the expense of safety. Qisda set out to select ABB's robots to fulfill the tasks in the production line and then went on to install Touché Solutions' T-Skin as the final safety mechanism. Their choices of robots were not constrained by human-robot collaboration. On the contrary, with Touché Solutions' T-Skin, Qisda would be able to choose any kinds of industrial robots which best fit the requirements of production lines without lowering its safety standards in the working place and ensure production safety.
Human-Robot Collaboration is the future of manufacturing industry. HRC not only increases production yield and productivity per labor hour, but it also enhances production line safety. T-Skin safety solutions from Touché Solutions plays an instrumental role in enhancing safety and efficiency in the HRC environment. With T Skin, HRC is no longer a privilege of flexible joint robotic arms and will be made possible on all variety of robots.