Network with Robotics, Vision & Imaging, Motion Control, & Motor Professionals at The A3 Business Forum 2020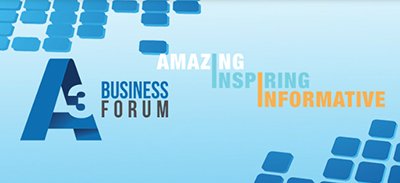 Hundreds of global automation leaders will meet at the A3 Business Forum to discuss the newest advances in robotics, machine vision, and motion control in Orlando, Florida at the start of 2020. This highly-anticipated networking event brings together influential leaders and drives exciting collaboration in the automation field. This event is hosted by the Association for Advancing Automation and is exclusive to members of its daughter associations: AIA, MCMA, and RIA.
Why Attend the A3 Business Forum 2020?
The A3 Business Forum will take place from January 13-15, 2020 at the Hilton Orlando Bonnet Creek. The conference offers inspiring and informative keynotes and sessions from speakers respected in their industries. Nine breakout sessions will cover topics from the latest in automation technology to specialized best practices in the fields of robotics, machine vision, and motion control.
Attendees will have the opportunity to network with some 600 robotics, vision & imaging, motion control, and motor professionals. A broad range of companies, including manufacturers, integrators, suppliers, and end-users will attend the A3 Business Forum. Registration not only provides access to all sessions, but also gets you into Monday's Welcome Reception, Tuesday's Breakfast, Lunch, and Dinner & Networking Party, Wednesday's Breakfast, and other events.
What's on the A3 Business Forum 2020 Agenda?
Byron Reese kicks off the A3 Business Forum on Monday, January 13, 2020, with Day 1's keynote session titled "Robots, AI, and the World of Tomorrow." Reese will discuss how technology will impact the future with an optimistic view balanced with detailed explanations of the challenges we face and how they will be overcome.
In economist Alan Beaulieu's keynote session on Day 2, titled "Global 2020 Economic Outlook & Forecast," he will offer business owners and executives a glimpse into the expected performance in 2020 for the automation industry. The future is bright for robotics, machine vision, and motion control, and Beaulieu's research and specific metrics can help business leaders decide where to invest.
On Day 3, Josh Linkner will bring the discussion into the here and now with his keynote, "Everyday Innovation." Linkner takes an energizing and humorous approach when discussing how attendees can make innovation happen daily at their facilities. Conference-goers will benefit from this discussion on how to integrate innovation into their daily work.
Register for The A3 Business Forum 2020 today and join the global automation leaders at the world's leading networking event for robotics, vision & imaging, motion control, and motors.