Thought Leaders in Automation
LEADING THE WAY IN INNOVATION
Learn from expert industry professionals and read their insight into the growth and opportunities in automation.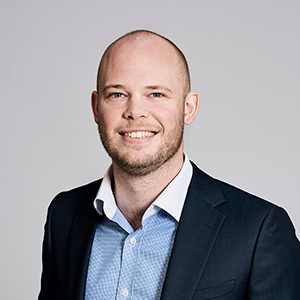 Kristian Hulgard
General Manager, Americas
OnRobot
Kristian Hulgard is General Manager of the Americas division at OnRobot, a leading provider of end-of-arm tooling for collaborative applications. He has been part of the collaborative robot market since its emergence, serving previously as Universal Robots' Sales Manager of Northern Europe. Kristian is an expert in cobot applications and activation of robots in the collaborative space.
QUESTION
OnRobot was founded in 2015, but you've been in the robotics space for many years. In your opinion, what have been the most significant overall developments over the past decade, and what do you expect to see in the coming decade, particularly in terms of advances in collaborative applications?
ANSWER
When I started out in the collaborative robot industry, it was all brand new, no one had heard about the technology. To see how the global market has developed and embraced collaborative automation has been amazing. I think the biggest and most significant developments have been bringing sophisticated technology down to a user-friendly level. My future prediction is that this user-friendliness will be reflected in all parts of the application, so integrators and end users only think about creatively solving their automation needs, not about specific parts, software, products, robots, grippers, etc.
QUESTION
It's very impressive you speak five languages – how has your multilingual ability helped you and your company in the robotics business?
ANSWER
After moving to the US, I – of course – speak mostly English. But since we are a global company, it's a privilege to speak to my colleagues and their partners in their native languages. I also love going to Automatica in Germany and see all the fantastic technology there, getting my rusty German up to speed.
QUESTION
Outside of OnRobot, you also spent time at UR – why do you think Odense and Denmark became such hot beds for robotics?
ANSWER
The emergence of the Danish robotics cluster in Odense is driven by a unique mix of several important factors; the success local robot companies have had, the fantastic university with strong robotics researchers, the investment-happy government - and the visionaries that have brought the robot cluster in Odense to the state it is today. I think we've only seen the beginning – there are plenty of room for more robot companies in Odense! A great thing about the cluster is that companies collaborate, (one company is a supplier to a neighboring OEM, etc.) and don't necessarily see each other as competitors – this type of synergy is also one of the keys to Odense becoming the robot center it is today.
QUESTION
The COVID-19 pandemic has revealed many vulnerabilities in areas such as supply chain, business operations, manufacturing processes, etc. What are the most important lessons you've learned as we continue to move through this global crisis?
ANSWER
I've learned that it is important to have an agile organization, that quickly can adapt and embrace new processes and procedures. And this goes for any company in any part of the supply chain. Everyone has been affected by the pandemic, and every company had to change the way they do or did things. I could see that the companies, big or small, who were agile and fast to adapt were also the ones with a head start and more success in the market.
At OnRobot, we have been encouraged seeing our partners rise to the challenge and use our robotic grippers in new and unprecedented ways. A recent example is PSI Technologies, developing a robotic COVID-19 testing application, limiting human-to-human contact in a potentially contagious setting. Internally, we have been able to maintain a 1-2 day lead time despite employees working from home. This was truly a team effort despite all of us being apart.
QUESTION
How can customers quickly generate ROI from using robotic applications?
ANSWER
Collaborative applications increase productivity, improve worker safety and don't require the huge upfront costs associated with traditional industrial automation. We find that on average, ROI on a collaborative application is around 12 months, but it's not uncommon for companies to see ROI in as little as 3 months, depending on the application.
A recent deployment we did at Tomenson Machine Works in Chicago saw ROI in just six to seven months. The company used our RG6 gripper to pick and place parts in a pin stamper, which resulted in a 40% decrease in misloads and scrap. Profit margins have also improved, especially on smaller products. By easily automating the small parts with the gripper and a robot arm, Tomenson saved engineering hours while also reallocating workers to focus on bigger parts with complex processes and longer cycles that require more attention.
QUESTION
While we all know downtime can help relieve stress, several science-backed studies confirm you actually improve productivity when you take time to enjoy life outside of the office. What are some of your favorite things to do in your free time?
ANSWER
I love being outdoors. I frequently ride my motorcycle, go hunting or just head out in the countryside to enjoy the fresh air and open skies. Texas summertime has had its restrictions on outdoor activities, but I am ready to get out there as soon as it cools down again!