Thought Leaders in Automation
LEADING THE WAY IN INNOVATION
Learn from expert industry professionals and read their insight into the growth and opportunities in automation.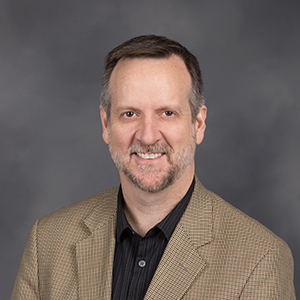 Matt Wicks
Matt has more than 25 years of experience in the material handling industry with expertise in the areas of robotics, controls and software integration for high-volume manufacturing and distribution systems. He has extensive experience in the field of advanced robotic solution development, including robotic solution integration and design. Matt is a thought leader in the robotics industry, holds numerous robotics patents and is a featured speaker at various robotics industry events. He holds a bachelor's degree in electrical engineering from the University of Missouri – Rolla (Missouri S&T) and is a registered Professional Engineer in the state of Missouri. He currently serves on the NextGen Supply Chain advisory board, Association for Advancing Automation (A3) Board of Directors and as the Chairman of the Robotics Industry Association (RIA) Board of Directors.
QUESTION
You have become extremely active in the Robotic Industries Association over the past several years, rising to your current role as Chairman of the RIA Board. How has this involvement helped you personally, and how has Honeywell Intelligrated benefitted from its participation in RIA?
ANSWER
The RIA membership organizations and the individuals that represent these organizations are the leaders in industrial robotics. My personal engagement with these leaders has provided unmatched industry insight and a depth of understanding not found anywhere else in this industry. This level of engagement has been an enabler for Honeywell Intelligrated to help drive the solutions that address our industry challenges, but also allows a shared platform for all member organizations to promote the advancement of robotics and industrial automation and speak as a common voice. Personally, it's been a privilege to serve as the chain of the RIA board and work alongside such a distinguished group of industry leaders and amazing individuals.
QUESTION
The autonomous mobile robot space is one of the most rapidly developing segments of the industry. What developments excite you the most going forward in the AMR space?
ANSWER
I think the growth of AMRs and robotics in general has been extremely exciting. The technological advancements we've seen in this space is enabling robotics to do more than ever before. AMRs specifically have the unique ability to navigate around the complex warehouse environment. This ability frees up labor from the mundane tasks of moving items around the warehouse and into more complex problem solving tasks uniquely suited to people. This enablement of the labor force not only improves the productivity of the operations, but can solve logistical challenges not well suited for traditional material handling equipment.
QUESTION
You have seen the use of robotics expand well beyond the automotive and electronics industries. Where do you see some of the greatest opportunities for robotics going forward?
ANSWER
Since I'm in logistics, it seems very apparent to me that there are many opportunities in this space. Over the past several years, we've seen the introduction of robotic technology into logistics, but there is still room for growth and opportunities as robotic and automation technologies advance.
QUESTION
The COVID-19 pandemic has revealed many vulnerabilities in areas such as supply chain, business operations, manufacturing processes, etc. What are the most important lessons you've learned that will help your company be better prepared for future pandemics?
ANSWER
Because we're a company that provides solutions to retailers, we've seen firsthand how many organizations have risen to the challenges presented with the rapid shift to online fulfillment operations. Organizations that have adapted easily are those that have been leaders in robotics and automated solutions and have invested in these technologies over the years. We're seeing a recognition that robotics and automation can help businesses sustain their operations in the face of these kinds of labor challenges. Robotics and automation can also help enable social distancing and minimizing close contact within facilities.
QUESTION
The city of Pittsburgh was recently selected as the location to establish Honeywell Robotics as a new brand within Honeywell. When people think of robotics innovation, they usually imagine high-tech companies on the east and west coasts, but Pittsburgh has become a major player over the past few years and is now referred to as "Roboburgh" by some. What do you think accounts for this rapid rise within the robotics sphere?
ANSWER
If you're in robotics and have not been to Pittsburgh, you're really missing out. The city is a hub of activity and is anchored by Carnegie Melon University, a world leader in robotics and the first university to offer a Ph.D. in robotics. Pittsburgh is known for technical innovation, is the birthplace of self-driving vehicles and has seen over 300% growth in employment in the robotics sector since 2011. Many companies have spun out of CMU and are located in "Robotics Row" alongside Honeywell Robotics. When you have these types of clusters of robotics brain trust, there is a natural community that forms around it. Organizations such as the RIA and Pittsburgh Robotics Network are a few examples of organizations coming together within the region to promote robotics and accelerate the growth within the community.
QUESTION
While we all know downtime can help relieve stress, several science-backed studies confirm you actually improve productivity when you take time to enjoy life outside of the office. What are some of your favorite things to do in your free time?
ANSWER
I enjoy spending time with my wife and 2 children - we're big movie fans, so we make movie nights a regular occurrence. I've always had an interest in music and was very active throughout college and marched in The Cavaliers Drum and Bugle Corps. During the summer months, I love to attend drum corps shows with my family and cheer on the corps as they perform in competition on their latest creations. I have such a great respect for the dedication and level of commitment required to participate in marching band and drum corps and hope to encourage a new generation to participate in this activity. Fun fact - I've even met a few others through the RIA that have a shared experience and interest in drum corps!