Why Motion Control Software Makes Sense for Your Business
POSTED 02/02/2017
 | By: Dipesh Mukerji, Vice President Marketing & Strategy
Traditional motion control applications came with limited options. The high cost to acquire the required appliances and the many applications used in the process made streamlined motion control difficult. Using the right motion control software makes the process much easier and more convenient. It ensures the quality of production is higher, reduces production time, and is dramatically more cost-effective than hardware-based motion control solutions.
The best motion control software needs to be compatible with the devices required for machine control and automation. The "plug and play" capability of a motion control platform meets this need and more. With a platform approach to motion control, the application can support various devices without the need to install the manufacturer-provided software for the device. Using a NIC card and EtherCAT protocol, the system easily connects with the available devices without the need for cables and other connection models that were traditionally used.
Replacing traditional hardware with modern motion control software is a great cost control measure (see how they compare.) The cost of acquiring traditional hardware appliances is high and no longer necessary when a motion control application is in place. The cables required to connect the appliances with the PC are also not required. As a result, the overall cost of maintenance and management of the whole system is reduced, which translates to reduced cost of production.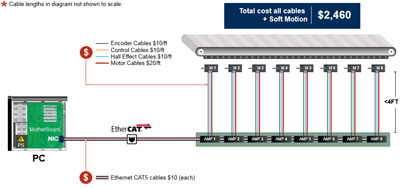 Speed of production is essential for machine control as well. Because soft motion control supports all stages of production, there is no need to swap between various applications at different stages of the process. This ensures the final product is ready within the set deadlines, which improves customer satisfaction. Easy access to resources and open libraries also speeds up the process. In addition, storage space and performance speed of the motion control system are less affected by the single application as when multiple applications are in place.
Machine control and automation is a complex process. In contrast to traditional hardware-based solutions, motion control software reduces costs, improves efficiency, and enables faster turn-around time. That means better returns and more growth opportunities for your business.