Inked to Precision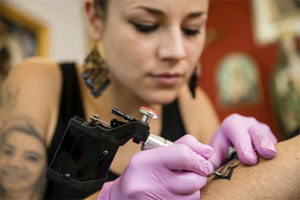 The tattoo scene is driven by younger artists who have little in common with the old stereotypes. They create true masterworks using the latest technology. And they all know the maxon "Swiss motor".
The age of rockers and sailors is over. The tattoo scene has developed, away from ill-lit chambers with burly, bearded men scratching hearts onto biceps, to well-illuminated studios where young and talented artists do their work. The Swiss tattoo artist Alena Lizier, age 24, already has her own tattoo studio in St. Gallen, Switzerland. "Please take off your shoes when you come in", she says. Hygiene is a must. Welcome to the new tattoo world.
Kitsch reigns supreme in Alena Lizier's shop. The colorful decorations filling the studio include an old metal cash register, a large statue of the Virgin Mary, and a gold-plated sofa with blue velvet upholstery. The large windows offer a view of the city. Clients from all walks of life come here – policemen, hairdressers, and even bankers. Tattoos have become socially accepted and are regarded as hip and cool. That's fine with Alena Lizier. She is a part of the new tattoo era, where the drawings are finer and more detailed than they used to be, and look more like works of art. New technology has played a role in this development. Traditional coil machines are increasingly being replaced with rotary devices driven by small electric motors. These models make it easier to draw fine lines. They are also lighter and much less noisy than earlier models. The motors created by maxon are regarded as the measure of all things. Tattoo machine manufacturers worldwide like to list the "Swiss motor" by maxon in their specifications. It is synonymous with longevity and reliability, very important factors for tattoo artists who use their tools daily and demand that they perform reliably for many years.
The first cordless machine
Enrico Friedli of Swisstattoomachine was among the first to recognize these advantages. His tattoo machines have been on the market since 1998 and enjoy a very good reputation. Right from the start, he chose to use quality motors from maxon. This proved to be a recipe for success. "The motor was what really set it apart from all of the other machines out there. It allowed us to stand out from the competition", says Friedli. Even today, customers still send in first-generation devices that need only minor maintenance before being put back into service in the tattoo studio.
Today, Swisstattoomachine supplies devices worldwide, from China to the US. Even though other manufacturers have also started to use maxon motors, Enrico Friedli still stands out from the crowd. After three and a half years of development, he introduced the first battery-powered tattoo machine this summer. This widely acclaimed innovation, the "Unchained", is equipped with a maxon RE 13 motor. This DC drive with precious metal brushes provides 2.5 W of power. Its energy efficiency makes it perfectly suited for battery operation. The low-noise drive is also practically vibration-free. In addition, the drive is lightweight. This is an important factor, as the tattoo machine is frequently held in the artist's hand for many hours at a time. At 140 grams, the "Unchained" is only 20 grams heavier than its predecessor model, "Heidi", which has a power cord.
"The motor allowed us to stand out from the competition." Enrico Friedli, Swisstattoomachine
More freedom of movement for artists
Alena Lizier is excited when she picks up the new machine for the first time. "Awesome. I have a lot more freedom of movement and don't have to be careful about the power cord." Hygiene is another benefit, as the cord of a tattoo machine has to be wrapped in a plastic hose before each work step. The tattoo artist turns her attention back to her customer, on whose leg she is completing a flower pattern. She dips the needle into ink and carefully draws a fine line. The needle carries the ink into the middle layer of the skin, where it will stay for the remainder of the customer's life – to the satisfaction of everybody involved, hopefully. Alena Lizier has realized her dream: "I am merging my art with real people every day. What could be better?"