Sumitomo Drive Technologies Product
Smartris - AGV Actuator
Model: ECO S, ECO M, PRO M, and PRO L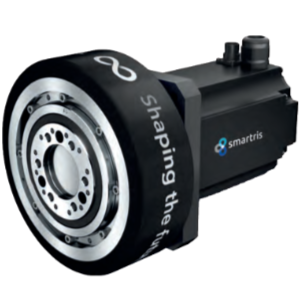 Smartris is the New Complete Package Solution including Gear, Servo Motor and Drive for AGV systems. With this New Integrated Package Sumitomo Drive Technologies is offering very competitive advantages and benefits for the AGV and AMR markets. Designed to deliver the highest performance, maximum precision, and reliability of integrated components.
Smartris provides maximum precision and reliability of our servo motor and gear. Precise control, energy efficient, dynamic, agile and reliable. With up to 2m/s and 1,0m/s² acceleration. Rated output torques up to 110Nm, max acceleration torque > 390Nm. Due to our innovative Cyclo principle, highest shock load capacities can be provided.
Smartris provides a highly integrated solution of all AGV actuator components (Gear + Servo Motor + Drive + Wheel), a single supplier with a global presence, a compact solution, certified STO (Safe Torque Off) safety features, maintenance free, and easy installation. Driven by Smartris, an AGV can carry a wide range of payloads. Radial load from 1,500 N to 16,000 N per driven wheel.
Other Products from Sumitomo Drive Technologies