Robotiq Product
2-Finger 140 Adaptive Robot Gripper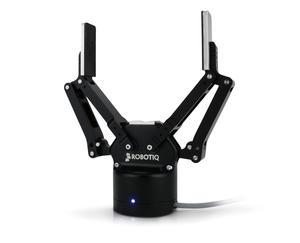 Handle all your parts by using a single programmable gripper with a large stroke and advanced control features.
This robotic end effector is compatible with all major industrial robot manufacturers and can be integrated quickly on Universal Robots through plug and play kits offered by Robotiq.
With a wide stroke of 140 mm, a payload of 2 kg and advanced control features, the new 2-Finger 140 Gripper is ideal for high-mix pick and place operations for various industries such as electronics, consume goods and logistics.
Other Products from Robotiq